Staci Molinar
Tuesday, February 14, 2017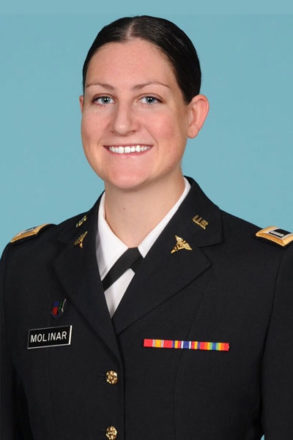 It's hard to greet the dawn with a five-mile run and a 50-pound backpack. But as Capt. Staci Molinar sets out on her morning ruck march, she thinks about her patients — soldiers grievously injured in mind and body, who face enormous challenges but persevere. "Seeing folks who are dealing with that kind of situation — the rest of us have no excuse," she says.
Molinar '10 BS KINES, '12 MS OT is chief of clinical operations for the 212th Combat Operational Stress Control Unit at Fort Campbell, Kentucky, which includes coordinating behavioral health services for the 86th Combat Support Hospital.
She leads a 28-member team: soldiers trained as occupational therapy assistants and behavioral health technicians, a social worker, psychologist, chaplain and psychiatric nurse.
Ten have already deployed to Afghanistan. Molinar and the others will go to Kuwait this fall. They will staff a center for combat stress and post-traumatic stress disorder, treating soldiers stationed in the region. She is one of only five Army occupational therapists training a team for duty in an active war zone.
"One of the big things about the military is that they hand you a ton of responsibility," says Molinar, who is also staff occupational therapist in orthopedics at Blanchfield Army Community Hospital. "Being in charge at first seems overwhelming, but it is super motivating. It drives you to push forward."
Molinar and her team help prepare soldiers before deployment and assist them after they return. Besides occupational therapy, the services they provide include neuropsychological triage, psycho-educational classes, resiliency training and prolonged exposure therapy. In the hospital or outpatient clinic, they see patients who have behavioral illnesses like PTSD or traumatic injury, including loss of limbs.
Molinar's 18-hour days start at 4:30 a.m., when she heads to her office to catch up with paperwork. From 6 to 7:30 a.m., there's physical training. The rest of the day might include team training, hospital rounds and "lots of meetings."
"But every day is different," Molinar says. "A lot of the work I do is fun, honestly. You get to do things you would never do — learning to navigate through the forest, firing weapons. It makes the days go by quickly."
Molinar considered joining the military after high school, but her parents insisted on college.
At AHS, "I had mentors who helped me figure out where I wanted to go and develop the best plan to get there," she says, mentioning Gail Fisher in occupational therapy and Karrie Hamstra-Wright in kinesiology.
When a recruiter told her about the opportunities available to Army occupational therapists, her path became clear.
The application process took about two years; Molinar worked as a school occupational therapist until she began officer training in 2013. She was commissioned a first lieutenant and assigned to Fort Sam Houston in San Antonio, Texas, where her clinical rotations included orthopedics, traumatic brain injury, behavioral health and burn and amputee rehabilitation. While there, she completed a DSc. in occupational therapy through a joint program between the Army and Baylor University.
"The military is good about providing you with opportunities to learn and grow," says Molinar, who has been awarded the Army Commendation Medal and the Army Achievement Medal. "Professional development is really important."
Molinar's long-term career goal is research and teaching; her dream assignment is the Army Research Institute of Environmental Medicine. For now, she looks forward to her deployment to Kuwait, possibly in late summer or fall.
"It's the best opportunity for me and my soldiers to do our true jobs, to use the skills we've been working on for the past couple of years," she says. "It's what we train every day for."