William Frey
Tuesday, February 14, 2017
2016 AHS Distinguished Alumni Achievement Award Recipient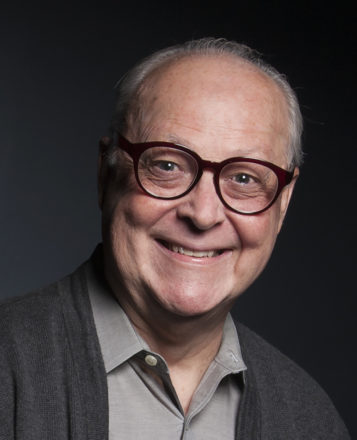 Since the day he left his hometown of Manteno, William Frey '71 BS OT has been on a path to greater learning, responsibility and service to others. His journey led to full-time faculty positions at five universities, four degrees, two hospital leadership positions, the national presidency of Alpha Eta honor society — and an endowment for scholarships to UIC occupational therapy students.
It all started at the University of Illinois. "It was the only school I applied to. I was accepted and BAM! my horizons expanded," he recalls.
He chose occupational therapy "because I knew I wanted to be in health care, but I wasn't certain I wanted to pursue more than a bachelor's degree." At that time, OT studies began with three years on the Urbana-Champaign campus, followed by two years on the Chicago campus.
"Those two years in Chicago were very intense," he says. "When you left, you felt you were equipped to go out and do something."
Besides a degree, he gained a life companion — classmate Carol Jackson, "a brilliant clinician," he says. Frey joined the Army Medical Specialist Corps and the couple moved to Fort Benning, Georgia. "The Vietnam War was going on, and I needed to do my part."
At Fort Benning, Frey developed new occupational therapy programs, including cardiac rehabilitation. He earned a master's of education at Georgia State University and completed his service with the rank of captain and an Army Commendation Medal. From his experience, he learned he liked to lead. "That sparked my interest in pursuing hospital administration," he says.
He completed a master's in health administration at Washington University. The residency required for his degree turned into a job as vice president of the 644-bed Toledo Hospital in Ohio. He oversaw almost every aspect of hospital operations, handling situations that included a major fire and the hospitalization of a Romani prince. "You learn from everything," he says.
Through his work at the hospital, he became involved in child abuse prevention. He served as chair of the Lucas County, Ohio, Child Abuse Prevention Center, receiving the Mary E. Liles Award for his work. He and Carol also became foster parents to two siblings.
After five years, Frey felt it was time for his next step: a Ph.D. As he earned his doctorate in medical sociology at Ohio State University, he was the university's assistant director of allied medical professions, shepherding programs through accreditation. He missed health care practice, though, and left to become CEO of the Rehab Hospital of York, a new for-profit medical rehabilitation hospital in Pennsylvania.
"It was very, very different," he says. "Before that, I had worked for government or not-for-profit organizations. In a for-profit enterprise, how do you provide quality care and earn a profit? How do you track that? I got involved in developing quality assessment and setting up quality assurance programs in Pennsylvania and throughout the multi-hospital system."
He planned to complete his dissertation at the same time — an unrealistic proposition, it turned out. He returned to academia and joined the faculty at Slippery Rock University, where he completed his research and developed undergraduate and graduate programs in health services administration.
"Most of our graduate students were health care providers going back to school while working," he says. "I held classes around my kitchen table at night to make sure they could get their coursework."
Frey took his enthusiasm for teaching nontraditional students to the University of St. Francis in Joliet, then St. Mary's College in San Francisco, both pioneers in distance education and adult learning. During his time in the Bay Area, he was chair of the Arts and Culture Commission of Contra Costa County.
Then family ties took him east to Memphis, where he became dean of the College of Allied Health Sciences at University of Tennessee. In one of his proudest moments, he was the first allied health dean to speak at commencement for University of Tennessee Health Sciences Center.
When Carol became seriously ill, however, he retired and they moved to their dream home on the Cumberland Plateau near Knoxville. "We had a great year together," he says. They were married 42 years until her death from pancreatic cancer in 2013.
In establishing the endowment for the Jackson-Frey Scholarship, Frey remembered his own background as the son of a homemaker and a factory worker, first in his family to attend college.
"I would not be where I am now, I would not have had these experiences, without my University of Illinois degree," he says. "It's time to think about the next generation."
The scholarships, which begin in four years, will be awarded to occupational therapy students who are military veterans, preferably first-year students in OT. "I want to help UIC be seen as a welcoming institution for veterans," he says.
These days, Frey volunteers with an adult literacy program and the Friends of the Library. He likes to travel — he made his first trip to India in November.
But his main avocation is the theater. Wherever he's lived, he's performed in regional and professional productions, including "My Fair Lady," "Damn Yankees" and "Annie Get Your Gun," opposite former Miss America Kellye Cash. His home stage now is Cumberland County Playhouse, where he will appear in four plays this year, including "Beauty and the Beast" and "Sister Act.". "It adds a lot to my life," he says.