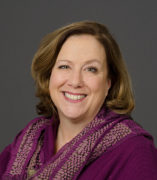 Patricia Ann Politano
Speech-Language Pathologist, Assistive Technology Specialist, Assistive Technology Unit
Clinical Associate Professor, Disability and Human Development
Email
Office Phone
Office
1640 W. Roosevelt Rd., 413 DHSP
Office Hours
By appointment
CV
About
Dr. Politano is a speech-language pathologist that has worked as an augmentative communication (AAC) specialist for over 25 years and has consulted internationally on AAC and assistive technology (AT). Current research interests include international AT policies and perspectives of people who use AAC.
Selected Grants
US Department of Education: Office of Special Education Programs (OSEP), Assistive Technology Leaders in Special Education (ATLiS), Co-Principal Investigator
Publication Aggregators
Notable Honors
2017 - Fulbright Specialist, US Department of State, Bureau of Educational and Cultural Affairs
Education
PhD, 2007, University of Illinois at Chicago, Chicago, IL (Major: Disability Studies, Thesis: Understanding factors contributing to interactions of people who use augmentative communication methods).
M.A., 1998, Northwestern University, Evanston, IL (Communication Sciences and Disorders).
B.A., 1981, College of St. Teresa, Winona, Minnesota, (Majors: Music Therapy and Psychology).