Applying
Ready to apply?
Don't worry, we'll make this easy.
Before you start, review our admission criteria on the Before You Apply page to make sure you meet all the requirements.
Our enrollment advisors are available to guide you through the application process and answer any questions you may have.
Deadlines
Applications are due July 1 for Fall and November 1 for Spring term.
Checklist
Application
Transcripts
Personal statement
Letters of recommendation
Resume
Official UIC application
Submit your application online via the UIC Website—just follow the instructions listed there. There is a non-refundable application fee of $70 for all applicants.
You don't have to enter and submit all application information in one sitting. You can return to the system as many times as you need to. You can also return to the system checklist as often as you like to see what materials have been uploaded and verified as received.
Transcripts
Submit unofficial copies of official transcripts from institutions where you earned degrees and transcripts from all colleges and universities you attended.
Personal statement
Submit a statement that addresses the outcomes and benefits you hope to receive by completing the certificate program.
Letters of recommendation
Provide names and email addresses of three references, excluding peers, friends and family). The system will automatically generate an email to each of the recommenders requesting that recommendations be uploaded to the link provided in the email. Recommenders should upload a completed form to the link within 30 days or by the deadline, whichever comes first.
Resume
Upload a current resume, highlighting your education and experience.
International students
If English is not your native language, you must take the Test of English as a Foreign Language (TOEFL), the exam of the International English Language Testing System (IELTS) or the PTE-Academic.
Scores must be submitted to UIC directly using the institutional code 1851.
Our program has higher minimum score requirements than the Graduate College.
We require a minimum score of 585 to 600 for the paper-based TOEFL. You must also take the Test of Written English and submit scores in the range of 5 to 6. The minimum score for the internet-based TOEFL is 95, with subscores of Reading 24, Listening 22, Speaking 24, and Writing 24.
Minimum scores for IELTS are 7.0 for the total score, 6.5 for each of the four subsections.
The minimum score for the PTE Academic is 54, with subscores of Reading 51, Listening 47, Speaking 53, and Writing 56.
Declaration and Certification of Finances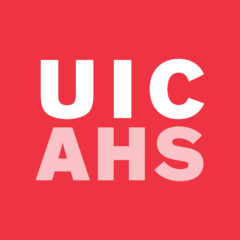 Questions?
Do you have questions about the application process that we haven't answered? Our academic advisors are here to help.
You can also contact us at:
Address

1919 W. Taylor St. (MC 530)
Chicago, IL 60612
Helpful Links