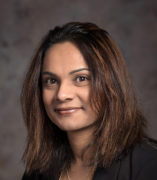 Joanna Abraham
Assistant Professor, Biomedical and Health Information Sciences
Focus Areas
Email
Office Phone
Office
1919 W. Taylor St., 204 AHSB
Office Hours
By appointment
Related Sites
About
Dr. Joanna Abraham is a tenure-track faculty at the Department of Biomedical and Health Information Sciences (BHIS) at the University of Illinois at Chicago. She has over 10 years of experience in the field of medical informatics, with a specific research focus on clinical workflows, care coordination and use of health information technologies (Health IT). Her current research focuses on the analysis of: (a) error management in handoff communication (b) evaluation of care coordination supported by the use of computerized physician order entry system (CPOE), (c) coordination of distributed clinical activities to manage information and task interdependencies, (d) team cognition in clinical teams, and (e) tools for care transitions between emergency department and outpatient clinics. She currently serves as the principal investigator on a National Sciences Foundation grant.
Dr. Abraham received a PhD in Information Sciences and Technology from Pennsylvania State University in May 2010. Prior to joining the University of Illinois in Fall 2013, she was an AHRQ post-doctoral fellow at the University of Texas (2010-11; where she was mentored by Dr. Vimla L. Patel and Dr. Jiajie Zhang).
Selected Grants
National Science Foundation, Towards Meaningful Information Transfer: Role of Interdepartmental Communication, Principal Investigator
Publication Aggregators
Service to the Community
As part of her service, Dr. Abraham serves on several committees for the University including START myResearch Project Steering Committee, and also for her research communities including American Medical Informatics Association, Human Factors in Healthcare, and Computer Supported Cooperative Work.
Leadership in the Profession
American Medical Informatics Association, Diana Forsythe Award Committee, Chair
Notable Honors
2015 - George H. Miller Student Research Mentoring Award, UIC Vice Chancellor of Health Affairs
2012 - Distinguished Paper Award, American Medical Informatics Association
2010 - Diana Forsythe Award for Ethnographic Research, American Medical Informatics Association
Education
Doctor of Philosophy, Information Sciences and Technology, Pennsylvania State University, 2010
Bachelor of Science, Computer Science & Engineering, SRM College of Engineering, Chennai, India, 2001