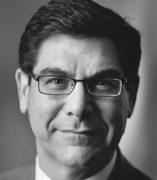 Anthony Faiola
Professor and Head, Biomedical and Health Information Sciences
Research Topics
Email
Office Phone
Office
1919 W. Taylor St., 264 AHSB
Office Hours
By appointment
Related Sites
About
Dr. Anthony Faiola is Professor and Head of the Department of Biomedical and Health Information Sciences, College of Applied Health Sciences, the University of Illinois at Chicago. Formally, he was Associate Professor (2001-16), Executive Associate Dean (2008-13), and Founding Director of the Human-Computer Interaction Program (2002-14) at the Indiana University School of Informatics and Computing, Indianapolis.
Dr. Faiola has published over 100 refereed papers, posters, and book chapters and given over 100 presentations / invited talks. As PI or Co-PI, he has secured over $1M in research funding from the: National Science Foundation, MacArthur Foundation, and Fulbright Institute. He has been the primary advisor to over 60 MS and PhD students. Dr. Faiola is a three-time Fulbright Scholar to Russia in communication and new media usability.
Dr. Faiola's research lies at the intersection of biomedical/consumer health informatics and human-computer interaction. With a view to advancing public health, his work focuses on mobile health technology innovation that supports healthy lifestyle management—through the application of human-centered design principles/practices. Details above.
Publication Aggregators
Notable Honors
2003 - Fulbright Scholar: Communication/eBook Technologies (Moscow, Russia), U.S. Council for International Exchange of Scholars
2003 - Indiana University Board of Trustees Excellence in Teaching Award, Indiana University School of Informatics and Computing
2002 - Fulbright Scholar: Communication/Online Publishing Technologies (Moscow, Russia), U.S. Council for International Exchange of Scholars
1999 - Fulbright Scholar: Communication/Future Trends in Digital Global Society (St. Petersburg, Russia), U.S. Council for International Exchange of Scholars
Education
PhD - Communication: Society, Media, & Technology, Purdue University, 2005
MA - Industrial Design: Visual Communication, Ohio State University, 1984
MFA - Fine Arts: Experimental Media, Ohio State University, 1979
MA - Fine Arts: Printmaking, University at Albany (SUNY),1977
BFA - Fine Arts: Printmaking, State University of New York at New Paltz, 1975