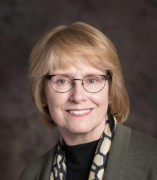 Valerie Schmitt Prater
Clinical Assistant Professor, Biomedical and Health Information Sciences
Focus Areas
Email
Office Phone
Office
1919 W. Taylor St., 241 AHSB
Office Hours
By appointment
About
Valerie's primary focus is on teaching and supporting student success in the health information management programs. She has developed new HIM courses and teaching approaches for both online and blended delivery, and leads curriculum assessment projects for the program. Since joining UIC, Valerie has been recognized by students and peers with numerous awards for teaching excellence. She has been active in UIC's effort to develop information technology governance, and in the interprofessional education initiative across the health science colleges. She is a frequent presenter at professional conferences, including the American Health Information Management Association (AHIMA) Assembly on Education Symposium and Faculty Development Institute.
Her previous experience includes over ten years of curriculum development, program management and teaching in health administration and health information management. Prior to her work education, Prater held management positions with several hospitals and with a national healthcare consulting firm.
Selected Grants
UIC Council for Excellence in Teaching and Learning, Curriculum and Instruction Grant: National Inpatient Sample Database Acquisition and Support, Co-principle investigator
UIC Council for Excellence in Teaching and Learning, Curriculum and Instruction Grant: Data Collection Modules for HIM Research Course, Principle investigator
Selected Publications
"Human Resources Management and Professional Development," Chapter 20 in Health Information Management Technology: An Applied Approach, Fifth Edition. N.B. Sayles and L. L. Gordon, Editors. (2016)., AHIMA Press.
""Getting Started With Information Governance-What Are you Waiting For?" with S. Goodell, L. Kadlec, and K. Lawler. (August 2015)", Journal of AHIMA: 8, 20-23.
Information Governance Toolkit 1.0, with AHIMA Information Governance (IG) Tools and Resources Work Group (2015)., AHIMA Press.
Care Across the Continuum: A Case-Based Learning Strategy to Improve Student Understanding and Attitude, with Gruss, V., M. Keehn, A. Valenta, E. Peterson, M. Schoen. R. Caskey, R. Raszewski, C. Mitchell., Collaborating Across Borders (CAB) IV, Vancouver, Canada: June, 2013 (poster).
Service to the Community
Prater was among UIC faculty and staff appointed by the Chancellor in 2013 to represent the university nationally on the Urban Serving Universities Action Group, Pipeline Partnerships and Programs to Health Careers. This work resulted in a web publication, "An Action Plan for Transforming the Future Health Workforce" (Washington, DC: Urban Universities for Health, 2013).
Leadership in the Profession
Commission on Accreditation for Health Informatics and Information Management Education (CAHIIM), Member, Health Information Management Accreditation Council (elected)
UIC Information Technology Governance Council Education Committee, Member; immediate past chair
UIC Interprofessional Education Steering Committee, Member
Notable Honors
2015 - Fellow, American Health Information Management Association (AHIMA)
2015, 2009 - Educator of the Year, UIC College of Applied Health Sciences
2017, 2015, 2013, 2011, 2010 - Excalibur Award for Teaching Excellence, UIC College of Applied Health Sciences Student Council
2010 - UIC Silver Circle Award for Teaching Excellence, University of Illinois at Chicago
Education
Master of Business Administration, with Honors, North Central College, 1995
Bachelor of Arts, with Honors in Continuing Education, Hollins College, 1987
Certificate, Health Services Administration, University of Alabama at Birmingham, 1986