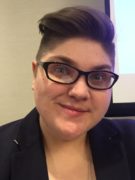 Kate Caldwell
Visiting Clinical Assistant Professor , Disability and Human Development
Focus Areas
Email
Office Phone
Office
1640 W. Roosevelt Rd., 245 DHSP
Office Hours
By appointment
Related Sites
About
A theorist, methodologist, and empirical researcher, Kate received her Doctorate in disability studies from the University of Illinois at Chicago. Having also received a master's' degree from the University of Chicago in interdisciplinary social sciences, she brings this expertise to approaching complex issues where various fields intersect and facilitating dialogue across disciplines.
Selected Grants
Coleman Foundation, Chicagoland Entrepreneurship Education for People with Disabilities (CEED), Postdoctoral Research & Training
Service to the Community
Kate participated in Entrepreneurship Solutions Seminar at the 2016 White House Summit on the United State of Women, representing women entrepreneurs with disabilities. She serves as advisor for the Subcommittee on Entrepreneurship, Tax Incentives & Procurement for the National Task Force on Workforce Development and Employability for People with Disabilities.
Leadership in the Profession
Society for Disability Studies, Board Member
UIC Chancellor's Committee on the Status of Persons with Disabilities, Executive Committee, Member (2013-2014)
UIC Chancellor's Committee on the Status of Persons with Disabilities, Student Advisory Committee, Chair (2013-2014)
Notable Honors
2014 - Achievement Award for Outstanding Personal and Professional Achievement, University of Illinois at Chicago
2011-2013 - Chancellor's Graduate Research Fellowship, University of Illinois at Chicago
2011 - Chancellor's Committee on the Status of LGBT Issues, Graduate Paper Award, University of Illinois at Chicago
2010 - Ann & Edward Page-El M.D. Scholarship Award in Neurodevelopmental Disabilities, University of Illinois at Chicago
Education
Doctoral Candidate, Disability Studies, University of Illinois at Chicago, 2014
Dissertation: "By the Bootstraps: People with Intellectual Disabilities and the Reification of Success in Social Entrepreneurship"
Advisor: Sarah Parker Harris, PhD, Assistant Professor, Disability and Human Development

Masters of the Arts Program in the Social Sciences, University of Illinois at Chicago, 2007
Thesis: "Care Machines: A Qualitative Analysis of Families of Children with Intellectual Disabilities"
Advisor: Peter J. Smith, MA, MD, Assistant Professor, Developmental & Behavioral Pediatrics

Bachelor of Arts in Psychology, Colby College, 2004
B.A. thesis I: "The Buddy Study: An Examination of College Students' Attitudes Towards Individuals with Intellectual Disabilities"
B.A. thesis II: "Pain: A Multidimensional Approach"
Advisor: Joseph E. Atkins, PhD, Assistant Professor, Cognitive Science