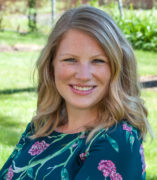 Aleksa Owen
Research Specialist in Developmental Disabilities , Disability and Human Development
Email
Office Phone
Office
1640 W. Roosevelt Rd., 245 DHSP
About
Aleksa Owen has a Master's degree in Social Work and is currently a PhD candidate in Disability Studies at UIC. She also works as a Research Specialist on staff with the Institute on Disability and Human Development (IDHD), where she facilitates community trainings, completes evaluations, oversees multiple IRBs and administers data collection and reporting for IDHD's national funders. She teaches DHD 202, Disability, Health and Society. Her dissertation explores how a particular prenatal genetic screening methodology, cell-free DNA screening, is understood in practice by multiple stakeholders.
Service to the Community
Aleksa is a member of The Arc of Illinois' Convention planning committee, and has collaborated with community based organizations including The Center for Independent Futures and the Council on Quality and Leadership.
Education
Phd (anticipated) in Disability Studies, Department of Disability and Human Development (UIC), 2018
MSW, Community Health and Urban Development concentration, Jane Addams College of Social Work (UIC), 2012
BA in Sociology and Psychology, Gordon College (MA), 2006