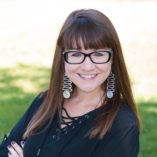 Hailee Yoshizaki-Gibbons
PhD Candidate in Disability Studies, University Fellow, Disability and Human Development
Email
Office Phone
Office
1640 W. Roosevelt Rd., 715 DHSP
Office Hours
By Appointment
Related Sites
About
Hailee M. Yoshizaki-Gibbons is a PhD Candidate in Disability Studies and University Fellow. Hailee teaches DHD 400: Disability and Human Development Capstone. Hailee's research interests include intersections of disability and aging, dementia, intersectionality, mental disabilities and neurodivergence, disability identity and disclosure, disability in higher education, and qualitative methodology. Her dissertation is an ethnographic study of dementia units in nursing homes in Chicago that explores the lived experiences of old women with dementia and the women who care for them, and analyzes how gender, race, class, age, and disability intersect to influence care in an institutional context. Hailee's work has been published in Review of Disability Studies, Disability & Society, and Intellectual and Developmental Disabilities. She has a chapter, "The (Im)peristence of Memory: Crip Time and the Politics of Dementia" in the forthcoming anthology, The Aging/Disability Nexus as well as a chapter, "Engaging with Aging: The Greying of Critical Disability Studies" in the forthcoming anthology, Manifestos for the Future of Critical Disability Studies.
Service to the Community
Hailee is on the Chancellor's Committee on the Status of Persons with Disabilities, and the Chair of its Student Advisory Board. She also is the Vice President of the Disability and Human Development Student Association. Outside of UIC, Hailee is on the Queer Caucus Steering Committee for the Society for Disability Studies and volunteers with an improv theater program for people with dementia.
Notable Honors
2017 - CCCC Disability in College Composition Travel Award, NCTE
2016 - Excellence in Undergraduate Mentoring Award, Honors College, University of Illinois at Chicago
2015 - Kate Welling Disability Studies Lecture Series Emerging Scholar, Miami University
2015 - Anne Hopkins Scholarship Award, Disability and Human Development, University of Illinois at Chicago
Education
Master of Science, Student Affairs in Higher Education, Miami University of Ohio, 2013
Bachelor of Philosophy, Interdisciplinary Studies with a Concentration in Gerontology, Psychology, and Family Studies, Miami University of Ohio, 2008