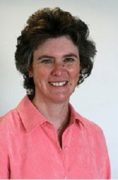 Jane Marone
Clinical Professor, Kinesiology and Nutrition
Email
Office Phone
Office
901 W. Roosevelt Rd., 336 PEB
Office Hours
M/W 1:00 - 4:00 p.m.
CV
About
Jane Marone earned her BA in biology in 1981, her MA in biology in 1982 and her MD degree in 1986 from the University of Missouri-Columbia. She completed her residency in physical medicine and rehabilitation at Louisiana State University in 1990. After completing her residency she worked in the laboratory of the late Robert C. Hickson at the University of Illinois-Chicago Department of Exercise Science, examining the effect of glucocorticoids on cyctochrome c oxidase in skeletal muscle from 1990-1993.
Since joining the kinesiology faculty in 1995, Dr. Marone has taught primarily at the undergraduate level. She teaches Human Physiological Anatomy and Cadaver Dissection during the fall and spring semesters and has coordinated KN 100 in the fall semester. She has supervised multiple independent study, Honors College capstone projects, as well as serving as an advisor on master's degree and dissertation projects. Her scholarship focuses on factors affecting teaching and learning in the undergraduate student population. She has published teaching manuals which she uses to supplement her teaching.
Selected Publications
"Learning style vs. time spent studying and career choice: Which is associated with success in a combined undergraduate anatomy and physiology course?", Anatomical Sciences Education 2016
"Frontal plane margin of stability is increased during texting while walking.", Gait and Posture 2014
"Preventing trip-related falls by community-dwelling older adults: a prospective study.", Archives of Physical Medicine and Rehabilitation 2013
"Clay modeling vs. written modules as effective interventions in understanding human anatomy", Anatomical Sciences Education 2013
Service to the Community
Coordinator for community/educational visits to anatomy laboratory
Leadership in the Profession
Center for Advancement of Teaching - Learning Communities, Master Teaching Scholar
Notable Honors
2013 - Silver Circle, University of Illinois at Chicago
2013 - Teaching Recognition Program, UIC Counsel for Excellence in Teaching and Learning
2007 - Educator of the Year Award, UIC College of Applied Health Sciences
Education
BA Biology, University of Missouri, 1981
MA Biology, University of Missouri, 1982
MD, University of Missouri, School of Medicine, 1986
Resident Physician, Physical Medicine and Rehabilitation, Louisiana State University, July 1986 to May 1990
Resident Physician, Physical Medicine and Rehabilitation, EMG clinics, Rehabilitation Institute of Chicago, June 1990