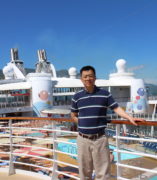 Zhenyuan Song Song
Assoicate Professor, Kinesiology and Nutrition
Research Topics
Email
Office Phone
Office
1919 W. Taylor St., AHSB, 627 AHSB
Office Hours
By appointment
About
My research focuses on the investigation of pathogenesis of fatty liver diseases, including Alcoholic Liver Disease (ASH) and metabolic syndrome-associated Non-Alcoholic Steatohepatitis (NASH) using both in vitro and in vivo models.
Selected Publications
"Nicotinamide ameliorates palmitate-induced ER stress in hepatocytes via cAMP/PKA/CREB pathway-dependent Sirt1 upregulation.", Biochim Biophys Acta. 1853:2929-36, 2015.
"Rectification of impaired adipose tissue methylation status and lipolytic response contributes to hepatoprotective effect of betaine supplementation in a mouse model of alcoholic liver disease.", The British Journal of Pharmacology 171:4073-86, 2014.
"Nrf2 activation-induced hepatic VLDL receptor overexpression in response to oxidative stress contributes to alcoholic liver disease in mice.", Hepatology. 59:1381-92, 2014.
"Tert-butylhydroquinone (tBHQ) protects hepatocytes against lipotoxicity via inducing autophagy independently of Nrf2 activation. ", BBA-Molecular and cell biology of lipids. 1841:22-33, 2014