Mark Grabiner honored with Borelli Award
Friday, September 1, 2017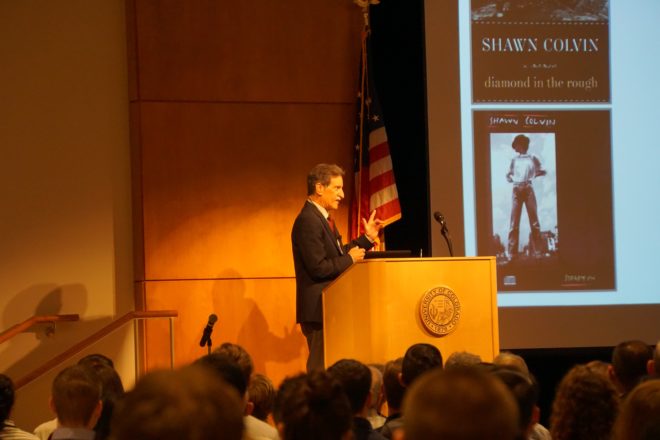 For researcher Mark Grabiner, receiving the Borelli Award from the American Society of Biomechanics "was the most awesome thing that has ever happened, or ever will happen, in my professional life."
Grabiner, professor of kinesiology and nutrition, received the award — the society's highest honor — at its annual conference Aug. 8-11. The award, which recognizes outstanding career accomplishment and exemplary research in biomechanics, is named for 17th century physicist, physiologist and mathematician Giovanni Alfonso Borelli, considered the father of biomechanics.
The Borelli Award winner presents a lecture at the conference — talks that are often research-focused and technical. "But this was such a profound honor, I decided to take a different direction," Grabiner says. "I thought I would talk to the next generation of scientists coming up."
Instead of presenting a data-intensive review of his three decades of research, which concerns the causes and prevention of falls in older adults, Grabiner gave the audience of more than 1,000 conference-goers a different message: Embrace randomness, because you never know where it will take you.
Grabiner told a personal story about his life and career, including the fellow researchers, graduate students and postdocs he has worked with along the way.
He began his tale in Carbondale, where he was an undergraduate at Southern Illinois University and working as a bartender. Into the bar walked a young woman named Penny, looking for a job as a server. She got hired, they got married, and Grabiner abandoned his plans to move to California. Instead, he earned a master's degree, then a Ph.D. in biomechanics, at the University of Illinois at Urbana-Champaign.
Fast-forward several years: Grabiner was a staff scientist at the Cleveland Clinic Foundation, collaborating with scientists and clinicians on research related to Olympic-level athletic performance and orthopedic conditions. Then, in an elevator, he met Dennis Jahnigen, chair of geriatric medicine at the Cleveland Clinic. That initial conversation led to many more.
"Over time, he sold me on the significance of the problems caused by falls by older adults," Grabiner says. The result: a productive research partnership and a new direction for Grabiner's career.
"And the impact of the work we've done, the progress we've made, far exceeds anything I could have ever hoped to do in the world of elite sports," Grabiner says.
Falls are the sixth-leading cause of accidental death in older adults, and the related health care costs continue to escalate as our population ages.
"Originally, I thought I'd solve this problem in five to seven years. I'm still working on it. It's mind-boggling in terms of its complexity," says Grabiner, who is also director of the college's Clinical Biomechanics and Rehabilitation Laboratory, professor of bioengineering and UIC associate vice chancellor for research and research integrity officer.
Grabiner titled his Borelli Award lecture at the conference "… and one thing just led to another."
"Appropriate, since many of the key events in my personal and professional life were unplanned," he says.
"It all tracks back to two things: a woman who walked into a bar in Carbondale, Illinois, and an elevator conversation with a guy I'd never met, in a building that I rarely visited. Random."