Drive-thru testing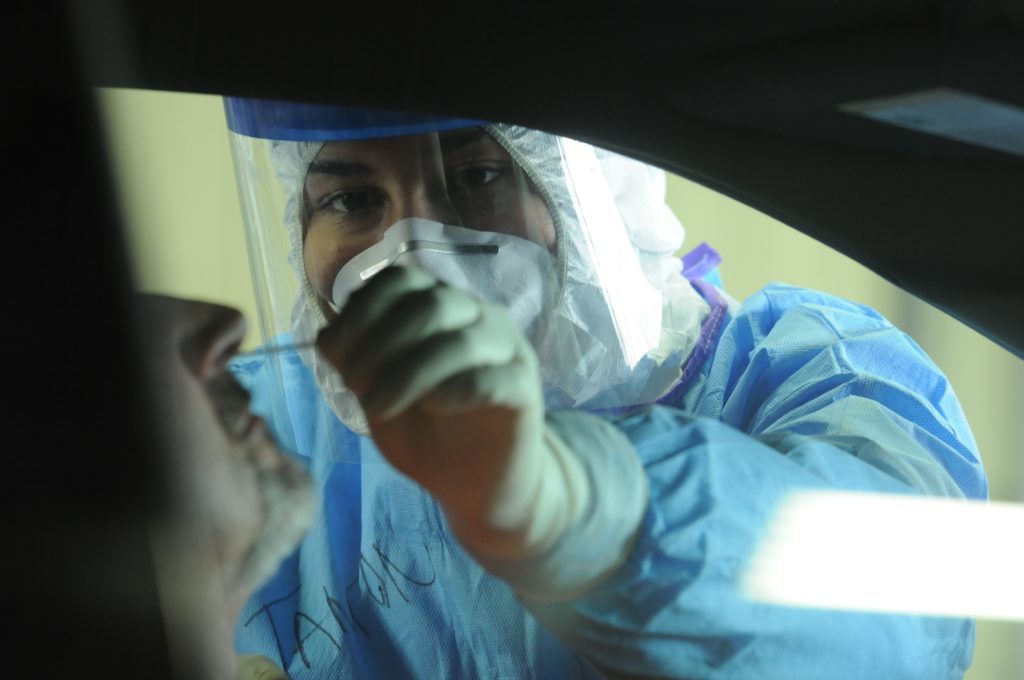 Akira Tanton (AHS Class of 2023) has spent the last several months helping thousands of Chicagoans get tested for COVID-19.
Tanton, airman first class in the 182nd Airlift Wing of the Illinois Air National Guard, was one of about 50 in her medical support unit who volunteered to conduct coronavirus testing at 11 drive-in sites throughout Illinois.
"The uncertainty of it is challenging. This is something we've never seen before," she says. "But we all decided to answer the call."
Tanton reported for duty March 16 with one day's notice. She completed her spring semester assignments, then her finals, online at night in her hotel room.
"School has been hard, but my professors have been accommodating," she says.
She and her fellow team members share their meals in a hotel conference room, seated apart for physical distancing. Their vital signs are checked three times a day.
They are transported to the testing site in early morning and stay until it closes mid-afternoon, or when all tests allocated for that day have been given. Tanton was initially stationed at the testing site in Harwood Heights, then sent to a new station that opened in Markham April 14.
The Guard conducts the tests according to guidelines from the state Department of Public Health and Emergency Management Agency. Just as protocols for dealing with the virus have changed, so have testing procedures.
In the first weeks, tests were available only to first responders, health care providers and older adults, with 250 tests each day. By late April, anyone with COVID-19 symptoms was eligible for testing and 750 tests per day were available. As of mid-May, the Guard had administered more than 96,000 coronavirus tests statewide.
Initially, tests were done by inserting a six-inch swab deep into the nasal cavity. That meant Air Guard medics wore hazmat suits and surgical gowns over their uniforms, as well as gloves, masks and face shields.
Now most tests use shorter swabs that people insert themselves, put in a vial and hand back to the medics, cutting down on the required PPE.
The goal is to quickly move people through the testing sites, former emission testing facilities with multiple drive-through lanes. Army National Guard members handle traffic flow, while Air Guard medics explain the procedure, administer the tests, then package them for the lab.
Individuals receive test results by phone within four to seven business days.
"They are nervous and scared," Tanton says of those who come for testing. "Some people cry.
We take the time to explain it and tell them it will be helpful in the long run.
When they're done, they say, 'That wasn't as bad as I thought.'"
Tanton joined the Air Guard in 2017 to help pay for college and because "I always wanted to do something bigger for myself and to serve others."
Her unit is headquartered at Peoria Air National Guard Base. As an aerospace medical technician, she's a certified EMT who spends one weekend a month and two weeks a year training as a medic in hospitals or in the field.
Tanton plans a career in the health professions, although she's not yet certain which field. Last year she went on a MedLife student medical mission to Peru, which inspired her to consider practicing in an underserved country.
She doesn't know when her current Guard assignment will end, but "however long they need us is how long I plan to stay."
In the meantime, she checks in often with her family in Sterling and Rock Falls, encouraging them to wear masks.
"It could happen to anyone," she says of COVID-19, adding that some of her friends were asymptomatic but tested positive for the virus.
The reward for her service during the pandemic? "Knowing I'm making an impact," she says.
"We're part of history."