After You Apply
You've applied and submitted your application. Now what?
What's next?
You can check your status of your application materials by logging into your OTCAS application at any time. This will show you a checklist of all your items and if they're all correct and complete.
Departmental review
Admission is selective and quite competitive. Completion of requirements does not guarantee admission. The admissions committee, composed of four faculty, considers many factors including:
GPA for the last 60 hours of the baccalaureate or graduate degree
GPA for the six required prerequisites that have been completed by the time of application (including fall courses)
GRE scores
OTCAS and UIC-specific personal statement
Letters of recommendation
Work and volunteer experience
Community service
Other relevant experience and expertise
Refer to our FAQs for more detailed information on your chances.
Graduate college review
In some specific cases, applications we recommend for admission may need to also be reviewed by the Graduate College. The Graduate College may decide to uphold our recommendation or deny the application.
After a decision has been made
You'll be notified of our decision on or before March 15. Very strong applicants may be notified in early January.
After we complete our review and make a decision on your application, we'll communicate our decision to you via email. You'll also receive an official letter from the Office of Admissions and we will update OTCAS. We do this throughout the application cycle, November through March 15.
If you've been admitted...
Congratulations! Access our Admitted Student page to follow up with next steps!
International students: If you'll need a student visa, you should submit OIS financial documents through the application checklist for the Office of International Services. Contact the OIS concerning document requests and visa processing.
If you need to defer admission...
Admission can be deferred once for one academic year. Notify us as soon as possible that you'd like to defer admission and provide the rationale. Decisions are made on case-by-case basis. If your deferral is approved by the department, we'll forward it to campus for final approval.
If you've been waitlisted...
We create a ranked alternate list of those who were close to being admitted but slightly below the admission point cutoff. If admitted students decline our offer, we call the top alternate on the list to offer admission. We don't anticipate calling any alternates before April 1. In late spring, we send out updates about how many alternates we've admitted. If you have another offer that you're considering and need to know your status before making your decision, contact us.
If you've been denied...
Admission to our program is highly competitive. Unfortunately, we're unable to respond to individual questions you may have about the reasons your application was denied. We hope the information provided in your letter can assist you in understanding the rationale for our decision.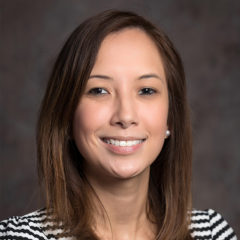 Questions?
We're here to help. If you have questions about what to do next, contact Maria Larson.
You can contact me at:
Address

1919 W. Taylor St.
344 AHSB (MC 811)
Chicago, IL 60612