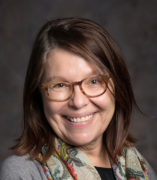 Celeste Januszewski
Clinical Assistant Professor, Occupational Therapy
Email
Office Phone
Office
1919 W. Taylor St., 329 AHSB
Office Hours
By appointment
About
Celeste Januszewski, OTD, OTR/L, CPRP is a Clinical Assistant Professor in the Department of Occupational Therapy at the University of Illinois at Chicago, where she is the lead instructor for Development of a Therapeutic Self, OT Practice: Psychosocial Aspects of Occupational Performance, and OT Practice: Cognition and Perception in Action. She is the co-instructor for the OPTIM workshop, where she supports occupational therapy students to foster their observation skills, focusing on the quality of occupational performance. Dr. Januszewski also coordinates a fieldwork experience where students run therapeutic groups at community sites.
Dr. Januszewski has presented at the World Federation of Occupational Therapists Conference, International Institute on the Model of Human Occupation, American Occupational Therapy Association annual conference, Psychiatric Rehabilitation Association's Recovery Workforce Summit, Consortium of Psychiatric Rehabilitation Educators, and the Illinois Occupational Therapy Association conference. As a clinician, she collaborates with adults with serious mental illness to support their recovery in community settings.
Selected Publications
"Filling the gaps: Occupational therapy services in community mental health", American Occupational Therapy Association, SIS Quarterly
"Occupational therapy's distinct value: Mental health promotion, prevention and intervention across the lifespan. ", American Occupational Therapy Association, Fact Sheet
Occupational Therapy Assessments in Mental Health, Model of Human Occupation, Thorofare, NJ: Slack Incorporated.
"Role for occupational therapy in community mental health: Using policy to advance scholarship of practice", Occupational Therapy in Health Care
Service to the Community
State of Illinois Department of Human Services / University of Illinois at Chicago Williams Consent Decree Evaluations, 2014-current, Program Coordinator • Coordinate program to evaluate supports needed for individuals who are currently living in IMDs (Institutes of Mental Disease) to transition to community living
Notable Honors
2017 - Invited speaker, Mental Health Summit, Performance-based assessment process for independent living skills, American Occupational Therapy Association
2018 - Invited speaker, Webinar: Occupational Therapy in Community Mental Health, Department of Human Services, State of Illinois
Education
Doctorate of Occupational Therapy, 2015. University of Illinois at Chicago
Advisors: Joy Hammel, PhD, OTR/L, FAOTA; Katherine Burson, MS, OTR/L; Virginia Stoffel, PhD, OT, BCMH, FAOTA
Project: Building a community mental health occupational therapy workforce in Illinois