Aug
16
Medical Exercise Therapy – Level I – Fundamentals
August 16 - 17, 2018
8:00 AM - 5:30 PM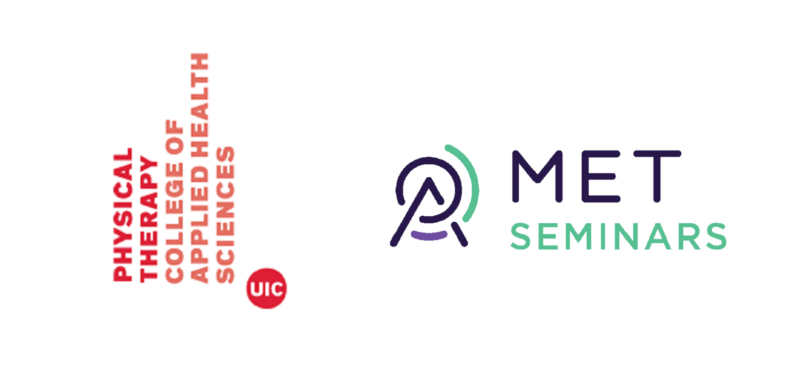 — CLICK HERE TO REGISTER before August 1 —
Objectives
The main objective of Level I: M.E.T. Fundamentals is for clinicians to obtain the skill set of implementing dosing and dosage strategies. Implementing appropriate dosing and dosage strategies will allow the clinician to achieve effective and efficient neuromuscular responses. Appropriate dosing for the rehabilitation of impaired tissue and dysfunctions, is based on administering the Clinical Fatigue Test (CFT). With a balanced mix of lecture and lab practice, this course enables clinicians to immediately implement therapeutic exercises with high precision of dose and dosage.
15 Continuing Education Units (CEU's) will be awarded.
Prerequisites:
Audience: Physical therapist, Physical therapist assistant, Occupational therapist, Occupational therapist assistant, or Athletic trainer. Students in those fields are also welcome.
Minimum of 12 registered participants two weeks prior to start of class.
$450**
Required Pre–Course Reading:
Aerts F, Carrier K, Alwood B. Inter-rater Reliability of Sustained Aberrant Movement Patterns as a Clinical Assessment of Muscular Fatigue. The Open Orthopaedics Journal, 2016, 10, 125-134.
Booth J, Moseley GL, Schiltenwolf M, et al. Exercise for chronic musculoskeletal pain: A biopsychosocial approach. Musculoskeletal Care. 2017 Dec;15(4):413-421.
Brody LT. Effective therapeutic exercise prescription: the right exercise at the right dose. J Hand Ther. 2012 Apr-Jun;25(2):220-31.
Khan KM, Scott A. Mechanotherapy: how physical therapists' prescription of exercise promotes tissue repair. Br J Sports Med. 2009 Apr;43(4):247-52.
Lorås H, Østerås B, Torstensen TA,3, Østerås H. Medical Exercise Therapy for Treating Musculoskeletal Pain: A Narrative Review of Results from Randomized Controlled Trials with a Theoretical Perspective. Physiother Res Int. 2015 May 25.
— CLICK HERE TO REGISTER before August 1 —
Upon completion of this course the student will:
Define the 2 guiding principles of the M.E.T. METhodology
Define the 5 Medical Exercise Therapy (M.E.T.) criteria to direct therapeutic exercises design, dosing and delivery.
Define the 4 M.E.T. therapeutic exercise objectives.
Apply the 4 training principles to 1 therapeutic exercise prescription and define how it leads to therapeutic adaptation.
Define clinical muscular fatigue and distinguish 2 differences between muscle endurance and exhaustion.
Identify 5 ways to measure clinical fatigue.
Apply Clinical Fatigue Test to 3 clinical scenarios.
Apply muscle physiology to the design and dose of 1 therapeutic exercise prescription.
Apply de-­­loading using relative mass to 1 therapeutic exercise prescription.
Apply the factors of moment and torque to 1 therapeutic exercise design.
List 5 components of therapeutic exercise prescription.
Design 1 therapeutic exercise prescription.
Interpret the results of a handheld dynamometer test assessing the initial resistance for a Clinical Fatigue Test.
Interpret the results of the Clinical Fatigue Test to appropriately dose 1 therapeutic exercise.
Dose 1 therapeutic exercise using resistance equipment and body mass.
Dose 1 therapeutic exercise for strength, strength/endurance, endurance or power
Course Outline
All modules are a combination of lecture and lab:
DAY 1 – Thursday, August 16
8:00 AM  Registration
8:15 AM   M.E.T background, Pre-course reading discussion
8:30 AM  The METhodology
9:30 AM  Clinical Scenarios
10:30 AM Break
10:45 AM Integration of training principles in therapeutic exercise dosing and design
12:45 PM Lunch
1:30 PM   Clinical Fatigue Test (CFT)
2:30 PM   Dose and physiological response
3:30 PM   Break
3:45 PM   Dosing guidelines
5:30 PM   Adjourn
DAY 2 – Friday, August 17
7:45 AM   Check-in
8:00 AM    Handheld dynamometry to facilitate the CFT
10:00 AM  Break
10:15 AM   Integration of biomechanical factors in therapeutic exercise design and dosing
12:15 PM   Lunch
1:00 PM    Functional integration in therapeutic exercises design and dosing
2:00 PM    Case studies and theoretical post-course interaction
4:00 PM    Adjourn
MET Level II – Upper Quadrant will follow this course
Instructors
Disclaimer
METSeminarsUSA and the University of Illinois at Chicago, reserve the right to cancel if a minimum of 12 attendees is not reached two-weeks prior to the course date. Cancellations of a course by METSeminarsUSA or by the University of Illinois at Chicago, will result in a full refund to attendees who have pre-registered.
METSeminarsUSA or the University of Illinois at Chicago, will not be held responsible for the reimbursement of unused travel expenses.
**Are you a Clinical Instructor or CCCE for UIC, or a UIC Student? Contact Tina Chase below for a discount promo code. If you are among the first 10 to register, you will receive 20% off.
Contact
Kristine M. Chase
312-996-9376