Of service
Wednesday, November 14, 2018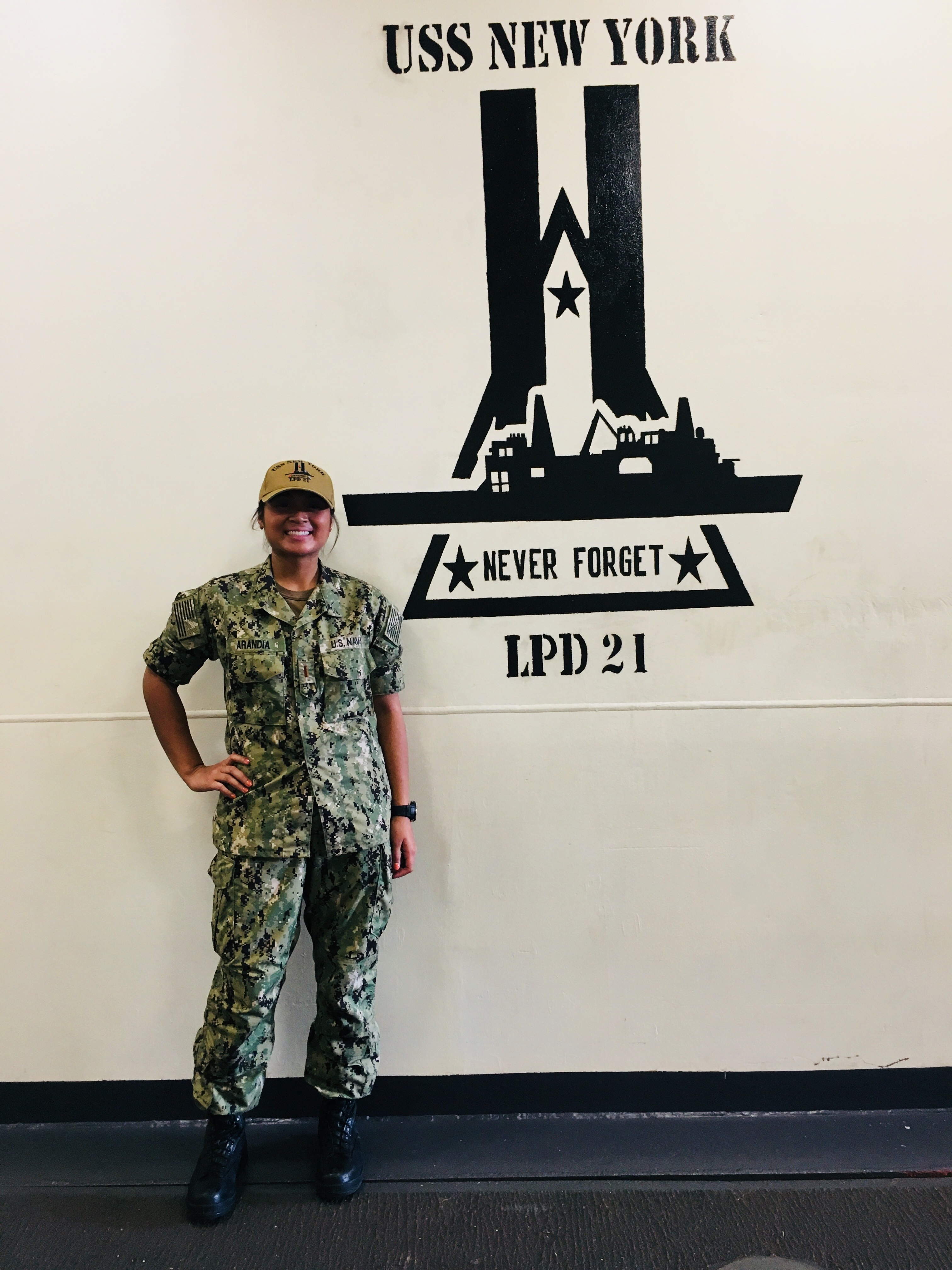 Genelle Arandia '18 BS KINES was a kindergartner when the Twin Towers fell on Sept. 11, 2001.
Now she's Ensign Arandia, serving on the USS New York, a Navy warship built partly of steel from the wreckage of the World Trade Center.
The ship's motto is "Strength forged through sacrifice. Never forget."
"It's a constant reminder of why we serve and what our ship means," Arandia says.
Just weeks after receiving her degree in kinesiology May 10, Arandia, 22, was aboard the USS New York. As the auxiliary officer on board, she is in charge of the maintenance, repair and operation of shipboard hydraulic systems, including the ship's galley and laundry equipment, small boats, A/Cs and refrigeration. She manages the work of 16 machinist mate sailors and two chiefs.
"Management is such a broad term here, though," she says. "Because, while I make sure maintenance is completed on time, I also work closely with my chiefs to make sure my sailors have all the resources they need to be successful professionally and personally, whether that means getting paperwork or approval for a job, or helping with financial or family issues.
"It's definitely leading in a culture where we look out for each other like family, and work together to get the job done."
As junior officer, she also pulls a daily watch on the bridge. In addition to her other responsibilities, she's working on her Surface Warfare Officer qualifications, which require multi-year training in seamanship, warfighting skills and leadership.
Arandia's ultimate ambition is a career in physical therapy, preferably in the Navy. Her parents, Manuel and Gemma Arandia, are a big influence: her mom worked in physical rehabilitation for the Department of Veterans Affairs and her dad retired from the Navy as chief petty officer.
"I knew since fifth grade that I wanted to become a physical therapist," she says.
I wanted to pursue an occupation in the medical field, one that would let me repay our servicemen and women for their sacrifices.
Arandia says she misses Chicago every day.
"I grew up in Grayslake but my family never really visited Chicago, so I wanted to go to UIC, literally having the city of Chicago as my campus," she says.
She attended UIC on a scholarship through Navy ROTC, which "gave me so much and now allows me to serve."
Arandia says UIC and NROTC were great preparation for where she is now, helping to keep a 24,900-ton warship in operation.
"UIC itself, with its huge emphasis on diversity and inclusion, really exposed me to different cultures and people, and the Navy is full of people from all walks of life," she says.
"Hard work at UIC translates to hard work on the USS New York. Every day is an opportunity to work hard, learn something new, make someone smile and have an adventure, and know that you're all the better for giving everything your all."