Eric Meredith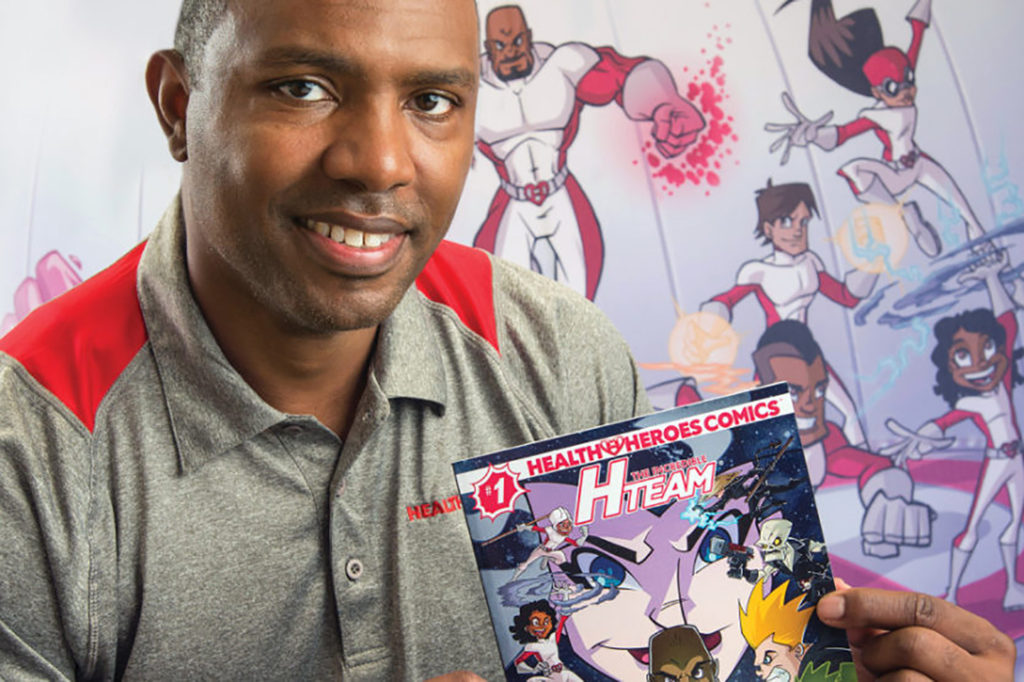 Kids love superheroes. Kids need to live healthier lives. Would they listen to a bunch of pumped-up pre-teen comic characters who save the planet while delivering messages about the values of exercise, nutrition and a healthy lifestyle?
Wowie zowie yes!, says Eric Meredith, founder of Health Heroes comics and a three-time UIC graduate (1994 bachelor's degree in business, 2012 master's in nutrition, 2015 master's in education).
"What you do as a child plays a big role in what you do as an adult," says Meredith. "An obese child has an 80 percent chance of becoming an obese adult. So I tapped into my inner kid to look for fun, engaging ways to reach children, and I came up with comics."
His comic book, featuring The Incredible H-Team, presents a cover of kinetic kids with clenched fists over the admonition, "Unleash Your Inner Hero!" It's available in paperback or as a Kindle download.
Meredith grew up in Roseland on Chicago's South Side, where he was a three-sport athlete in high school. After serving in the Navy, he earned a degree in information systems from UIC. He worked for McDonald's Corp., Lotus and IBM, then gave up his corporate career for a longtime passion: cooking.
After earning a culinary degree in 2007, Meredith launched a meal delivery service called Alter EatGo to help combat obesity in the African American community. He did on-air cooking demos as a media spokesman for the March of Dimes and the American Heart Association, billing himself as "America's Healthiest Chef." He's a registered dietitian, certified personal trainer and youth exercise specialist.
To reach young people, you can't lecture—"you've got to engage them," Meredith says. "It's all about reaching kids early, at that age when kids aspire to do something, when they want to be their best self."