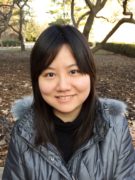 Jessie Chin
Research Assistant Professor, Biomedical and Health Information Sciences
Focus Areas
Email
Office Phone
Office
1919 W. Taylor St., 264 AHSB
Office Hours
By appointment
Related Sites
About
Jessie is a research assistant professor at the Department of Biomedical and Health Information Sciences at the University of Illinois at Chicago.
Her multidisciplinary research program aims at leveraging (1) theories in behavioral sciences (cognitive science, human-computer interaction and behavioral medicine), (2) both behavioral (experimentation, randomized controlled trial study) and computational approaches (e.g., statistical modeling, machine learning, natural language processing), as well as (3) the use of technologies and data, to develop innovative, scalable and accessible mechanisms to promote dissemination and implementation of evidence-based medicine through socio-technical solutions, with the overarching goal to address health disparities.
Jessie completed her PhD at the University of Illinois at Urbana-Champaign in 2015 under the supervision of Drs. Dan Morrow and Elizabeth Stine-Morrow in Educational Psychology and Dr. Wai-Tat Fu in Computer Science. In her postdoctoral research, she worked with Dr. Catherine Burns in Systems Design Engineering at the University of Waterloo in Canada. She rejoined the University of Illinois as a faculty member in 2017.
Selected Grants
NIH CCTS Pilot Grant UL1TR002003 , Promoting Physical Activity with Conversational Agents for Sedentary Older Adults, MPI
AHS Interdisciplinary Grant , Modeling Social Media Misinformation Dissemination and Its Impacts on Risk Perceptions of HPV Vaccination, PI
Publication Aggregators
Notable Honors
2015 - Arnold Small Best Student Paper Award, 59th Annual Meetings of the Human Factors & Ergonomics Society
2013 - Chateaubriand Fellowship In Humanities And Social Science, French Embassy
2012 - Cognitive Science /Artificial Intelligence Award, Beckman Institute, University of Illinois at Urbana Champaign
2011 - Beckman Institute for Advanced Science and Technology Graduate Fellowship, University of Illinois at Urbana Champaign
Education
PhD, Educational Psychology (Cognitive Science of Teaching and Learning), University of Illinois Urbana-Champaign, 2016
MS, Human Factors, University of Illinois Urbana-Champaign, 2009
BS, Psychology, National Taiwan University, 2006