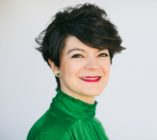 Isabel Romero Calvo
Clinical Assistant Professor, Biomedical and Health Information Sciences
Email
Office Phone
Office Hours
By appointment
Related Sites
About
Isabel Romero Calvo, MS, PhD, is a Clinical Assistant Professor in the Biomedical Visualization (BVIS) graduate program. She teaches scientific visualization courses, including molecular pharmacology and pathophysiology. Isabel is interested in improving scientific visualization of cell and molecular biology, maintaining scientific accuracy and integrating knowledge from 3D modeling and 2D illustration. In her toolbox, you will find VMD, PDB, MemprotMD and other types of molecular visualization software.
Isabel is also the founder and Creative Director of Morphology LLC, a biomedical visualization company that strives to address complex challenges with creative solutions that are both visually engaging and scientifically accurate.
When not working, she enjoys painting watercolors, bird watching, collecting buttons, swing dancing, cooking and gardening.
Notable Honors
2019 - Research Grant Award, The Vesalius Trust for Visual Commmunication in the Health Sciences
2019 - Honorable Mention Vesalius Trust Poster Symposium,, The Vesalius Trust
Education
MS in Biomedical Visualization, University of Illinois at Chicago, 2019
PhD in Biochemistry and Molecular Biology, University of Granada, Spain, 2013