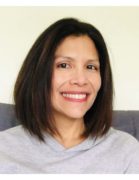 Maria (Veronica) Llerena
Occupational Therapist (Bilingual), DHD Family Clinic
Email
Office Phone
About
M. Veronica Llerena, MS, OTR/L, is a credentialed Early Intervention occupational therapist at University of Illinois at Chicago (UIC), Child and Family Development center. Veronica is passionate about working with children and families in Early Intervention and has over 15 years of experience working with diverse families in the Chicago-land area. Veronica serves as an adjunct clinical instructor at UIC and is an active member of the admissions
committee. In her previous academic work, Veronica contributed to the development of the Remotivation Process, a manual aimed at facilitating volition, while working with Carmen Gloria de las Heras and Dr. Gary Kielhofner. As an Early Intervention therapist, Veronica specializes in developing motivation and self-confidence as children expand their skills and abilities. She is trained in sensory integration techniques and has extensive experience
working with children on the Autism spectrum. Veronica is bilingual, working with English and Spanish speaking families.
Education
MS, Occupational Therapy, University of Illinois at Chicago, 2000
BA, English/Anthropology, Northwestern University, Evanston, IL, 1993