Continuing Education and Community Training
Promoting lifelong learning and engagement
To promote our culture of innovation and involvement, we offer continuing education for professionals who want to advance their knowledge and skills related to disability. Our community education events are perfect for individuals interested in learning more about disability.
Events and training
We strive to bring educational resources into the community for all people to learn and grow in their knowledge and skills.  Our community education events draw on the experiences of people in attendance, and provide expert knowledge and resources from educators who lead the training and workshops. Our topics for community education are based on the needs of community members.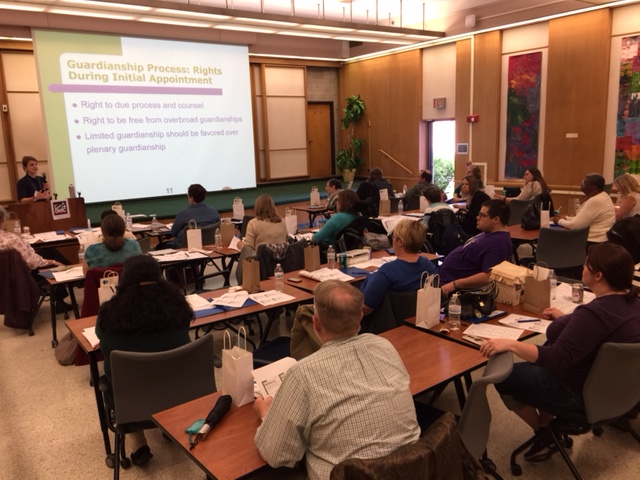 Frequently requested training topics
Sexuality and relationships
Family support
Sibling support
Self-advocacy and self-determination
Assistive technology
Aging for people with I/DD
Audio Conferences and Webinars
Lecture series
The Department of Disability and Human Development's academic program also coordinates a thriving lecture series that regularly hosts scholars, artists and innovators in the field.  As a service both to the University and our community, this series brings diverse speakers with an array of experience, research and talent.  It offers you the opportunity to meet leading individuals in the field.
Arts and culture
The Program on Disability Art, Culture, and Humanities is home to Bodies of Work, a network that supports city-wide disability arts festivals and promotes disability arts and culture.  PDACH hosts their disability arts series in collaboration with numerous university and city partners, bringing visiting disability artists to the community.
Continuing education units (CEUs)
The Institute on Disability and Human Development's Community Education Program is approved and licensed to issue CEUs for:
Advanced practice nurses, registered nurses, and licensed practical nurses
Clinical psychologists
Illinois teachers professional development (PD)
Licensed clinical social workers, licensed social workers, licensed professional counselors and licensed clinical professional counselors
Licensed dietitian nutritionists (RD)
Nursing home administrators
Occupational therapists
Physical therapists
Qualified intellectual disabilities professionals
Speech language pathologists
These CEUs can be issued for a variety of webinars, workshops, trainings, seminars, and other events hosted by us or any other collaborating organization.
Want to receive news about upcoming events that may offer CEUs?
Subscribe to our listserv by sending an email to listserv@uic.edu. In the body of the message, inlude the text: SUBSCRIBE il_ucedd2@listserv.uic.edu followed by your first and last name.