Nell Koneczny selected as Emerging Leader Intern at the Association of University Centers on Disabilities
Thursday, November 8, 2018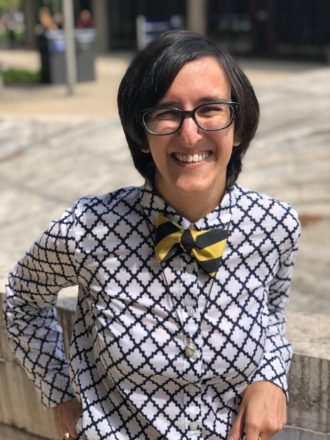 Meet DHD PhD student, Nell Koneczny, one of the two Association of University Centers on Disabilities (AUCD) trainees selected to be an Emerging Leaders Intern for the AUCD.
AUCD is a network of interdisciplinary centers that advance policy and practice for and with people with developmental and other disabilities.  As an Emerging Leaders Intern, Nell's focus is on social media, communication and engagement. She manages the Emerging Leaders Community's various social media accounts and Listserv. Through these channels, she provides updates to AUCD trainees, Emerging Leaders Community and the 3000 trainees in the network about what is going on in the AUCD.
Additionally, Nell is responsible to work with trainee liaisons, who are trainees from different AUCD member sites. Nell is in charge of coordinating and ensuring that trainees receive information and opportunities related to leadership, research, grants, fellowships, emerging issues, and more regarding their program or center, member sites, and the AUCD national office.
Explore and find what supports and energizes you.

These are some words of wisdom Nell shares for individuals interested in Disability Studies.

|
UIC's Institute on Disability and Human Development (IDHD) at the Department of Disability and Human Development (DHD) is a University Center for Excellence in Developmental Disabilities Education, Research, and Service (UCEDD) member. Being part of UCEDD means that IDHD is a contributor to research and community engagement. However, DHD students are not always aware that they are also trainees of the UCEDD.
DHD is also home to the Leadership Education in Neurodevelopmental and Related Disabilities (LEND) program for the State of Illinois.  Thus, Nell as an Emerging Leaders Intern helps connect DHD students to the UCEDD and LEND and disseminate important information.
As an AUCD diversity fellow during the 2017-18 academic year, Nell worked to create accessible classrooms through a project called "Accessible Classroom Training."  This project introduces instructors and university decision-makers to disability culture and community; it also provides them with the tools to make their classrooms more welcoming for students with disabilities. This project was first piloted at the School of Public Health and has been presented to other departments in UIC, such as math and anthropology. This training has also been introduced in a course in the graduate certificate of college teaching.
Learn more at the AUCD Emerging Leaders Community website.
* This article was developed as part of an applied learning experience for the DHD 400 class