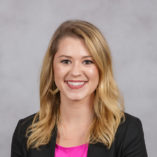 Abbey Breckling
Clinical Instructor, Lab Director , College of Applied Health Sciences
Focus Areas
Email
Office Phone
Office
901 W. Roosevelt Rd., 331 PEB
Office Hours
By appointment
About
Abbey Breckling is a full-time Clinical Instructor and the Director of the Anatomy & Physiology Laboratories for the Department of Kinesiology and Nutrition. Abbey has earned both a BS and MS from the University of Illinois at Chicago, as she specializes in cadaveric dissection work as her research focuses on cadaveric anomalies in the human body. Her teaching focus is anatomy education, as she is actively interested in new pedagogical techniques to enhance anatomical curriculum. Abbey also leads numerous students through an Experiential Learning program in the department which includes instructing undergraduate students how to teach anatomy to their peers.
Service to the Community
Abbey works directly with the surrounding community to bring other facilities, high schools, and professional groups into the cadaver lab to witness the human body and its depths for educational purposes.
Education
MS, Kinesiology - Exercise Physiology, University of Illinois at Chicago
BS, Kinesiology - Movement Science, University of Illinois at Chicago