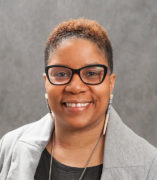 Angela Odoms-Young
Associate Professor, Kinesiology and Nutrition
Focus Areas
Email
Office Phone
Office
1919 W. Taylor St., 506C AHSB
Office Hours
By appointment
About
Dr. Odoms-Young's research is focused on understanding social, cultural, and environmental determinants of dietary behaviors and diet-related diseases in low-income and minority populations. Her current projects include studies to evaluate the impact of the new WIC food package on dietary intake, weight status, and chronic disease risk in 2-3 year old low-income children and vendor participation; identify strategies to improve program participation and retention among WIC eligible children; evaluate the efficacy of a community-based participatory weight loss intervention in African American women; and examine community engagement approaches to promote food justice.
Prior to joining UIC, Dr. Odoms-Young served on the faculty of Northern Illinois University in Public Health and Health Education. She completed a Family Research Consortium Postdoctoral Fellowship examining family processes in diverse populations at the Pennsylvania State University and the University of Illinois at Urbana-Champaign and a Community Health Scholars Fellowship in community-based participatory research at the University of Michigan School of Public Health.
Selected Grants
Centers for Disease Control and Prevention, Illinois Prevention Research Center: Supporting Policy and Environmental Change., Co-Investigator
Illinois Department of Human Services, Improving Retention Rates among Children in WIC in the State of Illinois, Principal Investigator
NIH-NHLBI, Improving Blood Pressure and Vascular Risk with Resistance Exercise in African Americans, Co-Investigator
Chicago Community Trust, Promoting Healthy Lifestyles Among Latino Youth with Disabilities and Their Families, Co-Project Director
Notable Honors
2015 - Katherine Kaufer Christoffel Founder's Award, Consortium to Lower Obesity in Chicago Children (CLOCC), Ann and Robert H. Lurie Children's Hospital of Chicago
2010, 2013 - Excalibur Award for Teaching Excellence, College of Applied Health Sciences, University of Illinois at Chicago, Chicago, IL
2012 - Black History Maker Award, Chancellor's Committee on the Status of Blacks, University of Illinois at Chicago, Chicago, IL.
2009 - Excellence in Dietary Guidance, Food and Nutrition Section, American Public Health Association
Education
PhD, Community Nutrition; Minors: Program Evaluation/Planning and Toxicology, Cornell University, 1999
MS, Human Nutrition, Cornell University, 1994
BS, Foods and Nutrition, University of Illinois Urbana-Champaign, 1990