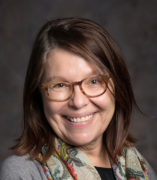 Celeste Januszewski
Clinical Associate Professor, Occupational Therapy
Email
Office Phone
Office
1919 W. Taylor St., 329 AHSB
Office Hours
By appointment
Related Sites
About
Celeste Januszewski, POTD, OTR/L, CPRP, is a Clinical Associate Professor in the Department of Occupational Therapy at the University of Illinois at Chicago. Dr. Januszewski's primary focus is to prepare occupational therapy students to address the psychosocial aspects of occupational performance. Her scholarship aims to support people with psychiatric disabilities to live the life they want (and deserve) to live.
Selected Publications
"Filling the gaps: Occupational therapy services in community mental health", AOTA SIS Quarterly
"Occupational therapy's distinct value: Mental health promotion, prevention and intervention across the lifespan. ", AOTA Fact Sheet
"Assessments Used Within the Model of Human Occupation", Occupational Therapy Assessments in Mental Health
"Role for occupational therapy in community mental health: Using policy to advance scholarship of practice", Occupational Therapy in Health Care
Service to the Community
State of Illinois Department of Human Services / Williams Consent Decree Evaluations, 2014-2020, Program Coordinator. Coordinate program to evaluate supports needed for individuals who are currently living in IMDs (Institutes of Mental Disease) to transition to community living. MADO Healthcare, 2015-current. Wellness Recovery Action Plan (WRAP) Facilitator.
Leadership in the Profession
American Occupational Therapy Association,, Editor, Mental Health Special Interest Section Quarterly
Notable Honors
2019 - Invited key note speaker, AOTA Mental Health Summit, American Occupational Therapy Association
2018 - Invited speaker, Webinar: Occupational Therapy in Community Mental Health, Department of Human Services, State of Illinois
2017 - Invited speaker, AOTA Mental Health Summit, Performance-based assessment process for independent living skills, American Occupational Therapy Association
Education
Post-Professional Doctorate of Occupational Therapy, 2015. University of Illinois at Chicago
Advisors: Joy Hammel, PhD, OTR/L, FAOTA; Katherine Burson, MS, OTR/L; Virginia Stoffel, PhD, OT, BCMH, FAOTA
Project: Building a community mental health occupational therapy workforce in Illinois