Community through service
Friday, February 10, 2017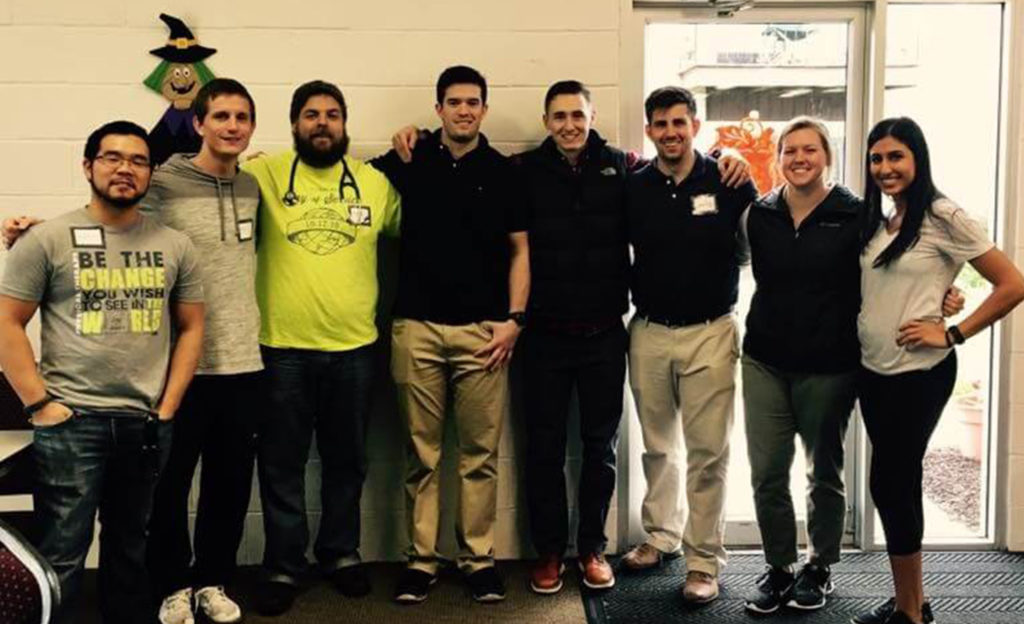 UIC physical therapy students joined thousands all over the world in giving back to their communities on PT Day of Service Oct. 15.
"A lot of what we do as physical therapists is focused on helping people in the clinic. PT Day of Service focuses on helping people in the community," said Rich Severin, adjunct faculty member in the physical therapy department and doctoral student in rehabilitation science.
The first PT Day of Service in 2015 involved more than 3,750 participants and sponsors. Since then, the national organization has grown to include chapters in 39 different countries.
"You find a project relevant to the community, then implement it," said Severin, who was UIC's ambassador in 2015 and is now co-chair of the national organization's sponsorship committee.
This year, UIC doctor of physical therapy students organized a wellness event at an Alsip senior living facility, with mobility screening, cardiovascular screening, nutrition education and group exercise sessions.
Besides Severin, this year's UIC group included UIC DPT students Jacob Chase, Orah Peer, Charles Rinchiuso, Paul Sraders and Robert Waddell, as well as Evan Liu (an orthopedic DPT resident) and Jessica Stoner, a DPT student from Creighton University.
Last year, UIC DPT students volunteered at the Hyde Park Food Pantry and donated over 600 bars of soap for food pantry clients from a department soap-bar drive that included donations from a local soap manufacturer.
PT Day of Service is a project of the nonprofit organization Move Together. The organization's projects also include the Quique Ceron Foundation, which sends medical missions to Guatemala; StandUp Kids, which helps physical inactivity in children combat childhood; and the Pro Bono Incubator, which helps students establish pro-bono physical therapy clinics at their institutions.
Severin, an Eagle Scout, has been active in community service since he was young. He volunteered with the American Red Cross in his hometown Philadelphia and at soup kitchens as a DPT student in Miami. He participates in the annual UIC Day of Service each spring.
Over winter break he'll join a mission trip to Nicaragua with other health practitioners, including fellow UIC students. "Being active in the community through service is very important to me both professionally and personally," he said.