Growing closer with distance
A physical therapist and client strengthen their relationship while practicing social distancing.
Every week since the state-ordered pandemic restrictions began, physical therapist Deb Davey and her patient, Theresa Harris, have logged onto doxy.me to visit each other's homes.
They discovered they have the same kind of sofa. Davey has peeked inside Harris' fridge. They dance to Motown.
Through telehealth, they've established a strong level of trust as Davey treats Harris for longtime pain related to two back surgeries.
"I am not a tech-savvy person. I was a little bit worried about how this would go," says Davey, a clinician and educator at the UIC Physical Therapy Faculty Practice clinic who is seeing seven patients through telehealth. "But it's been a great experience."
Harris agrees.
"At the clinic, there's interruptions; there's other people in the room. Doing this online is more personal, because we're both at home. It's more undivided attention," she says.
When the PT clinic temporarily closed March 16 due to the state's COVID-19 shutdown order, its seven physical therapists offered patients the option to try telehealth. As of July, they had provided nearly 100 telehealth appointments and the experience has been "well-received overall," says clinic director Aaron Keil.
This is something we probably would not have explored if it wasn't for the coronavirus," Keil says, "and something we will certainly continue to offer for the foreseeable future.
PT is a hands-on practice, so online treatment might seem counterintuitive. Davey says telehealth doesn't work for every patient, but for some there are advantages over in-clinic appointments. There's convenience: patients don't have to arrange childcare or take time off work to travel to the clinic at 1640 W. Roosevelt Road, and clinicians can offer more flexibility in appointment times.
Another advantage: the physical therapist can observe patients in their home environment.
"You can see how they move around their house and you can see the obstacles they have to overcome," Davey says. "You can meet their family."
Perhaps most important of all: patients may feel more relaxed and comfortable, more willing to open up, during their telehealth appointments. Harris has talked with Davey about the stress of caring for her daughter, who has developmental disabilities, and her grief over her son's death.
"You can have one-on-one privacy," Davey says of the telehealth appointments.
Davey is a clinical assistant professor who teaches in the post-professional orthopaedic residency and Doctor of Physical Therapy program as well as seeing patients in the clinic.
She specializes in the treatment of chronic pain, which she prefers to call "persistent pain." She recently completed a European Diploma in Pain Physiotherapy from the European Pain Federation in Leuven, Belgium.
Pain is a multi-faceted, multi-dimensional condition that affects nutrition, sleep, stress—your daily life. It's a very, very complex phenomenon," she explains. "There's more to pain than the physical experience of it.
She works closely with Khalid Malik, professor of clinical anesthesiology and division chief of pain management at UI Health, and his team in using physical therapy as a strategy for pain management, often seeing patients immediately after they leave the pain clinic.
"We give patients strategies to manage their pain," Davey says. "When you're in pain, the last thing you want to do is move. But moving is medicine."
People with chronic pain usually have other health issues too, so Davey makes referrals to the clinic's nutritionist. Shayna Oshita, as well as social workers and psychologists.
"We give them resources to assist in self-management. We give them a listening ear to hear about their pain experience. It's about finding a way to create a patient alliance," Davey says.
And "alliance" is a good description for the bond between Davey and Harris.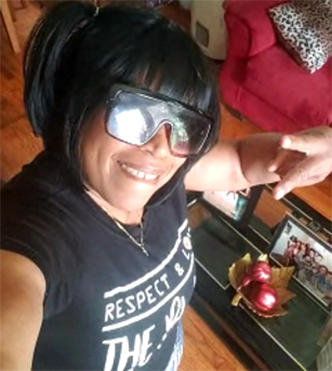 After a lifetime of physically demanding jobs—she currently works at UPS—Harris has a long list of health problems. Her back surgeries resulted in complications and infections.
At one point, hospital staff thought she wouldn't walk again. "They didn't know I had already made arrangements with Jesus to get up out of that bed," she says.
Besides persistent pain, Harris has diabetes, high blood pressure and high cholesterol. Last year, she had a heart attack.
"I've got a stint in my brain, a stint in my heart and hardware in my back," she says. "When I get up and start my day and live my life, I don't look at it as if I have all these chronic illnesses. I don't make this the end of my story."
Harris and Davey had several appointments in the clinic before the coronavirus shutdown.
But, to their surprise, the online video appointments made their sessions more personal, more effective—more fun. They don't have weights, so they use cans of beans or bags of potatoes. They do the exercises together and each session ends with dancing to a Motown playlist.
When Harris' daughter saw how much her mother gets out of the telehealth appointments, she bought her a laptop to use instead of her smartphone.
"I never thought I could do something like this in my home and not be bored," Harris says.
I've had a lot of physical therapy. I could probably teach a class or two myself. With Deb, I actually have a relationship. She keeps me motivated. Sometimes I need that extra love.
"There's a vulnerability when you open your home," Davey says of the telehealth appointments. "You feel more comfortable opening up the inner doors of your life, along with the physical doors.
"You don't get that when people come to the clinic."