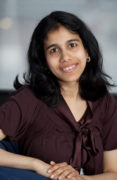 Mansha Mirza
Assistant Professor, Occupational Therapy
Assistant Professor, Disability and Human Development
Focus Areas
Email
Office Phone
Office
1919 W. Taylor St., 346 AHSB
Office Hours
By appointment
CV
About
Dr. Mirza's scholarly interests address health and social service disparities among low-income, underserved communities, with a special focus on immigrant and refugee newcomers. She is currently working on research projects that seek to enhance healthcare services for these communities using interventions such as community capacity building, information and communication technology applications, trained language interpreters and para professionals. In her work, Dr. Mirza collaborates with various community organizations. Dr. Mirza is also the lead instructor of Research Methods in Occupational Therapy, a required course in the MS program.
Selected Grants
Administration for Community Living, National Institute on Disability, Independent Living and Rehabilitation Research, Partners of Refugees in Illinois Disability Employment, Co Principal Investigator
University of Illinois at Chicago College of Applied Health Sciences, Walking the talk: Language access in rehabilitation services, Principal Investigator
The Sociological Initiatives Foundation, Promoting Language Equity for Medicaid Beneficiaries in Illinois, Principal Investigator
The American Occupational Therapy Foundation, Piloting an Occupational Therapy Intervention in a Primary Care Clinic, Principal Investigator
Selected Publications
"Making sense of three-way conversations: A qualitative study of cross-cultural counseling with refugee men.", International Journal of Intercultural Relations
"Insurance coverage for rehabilitation therapies and association with social participation outcomes among low-income children", Journal of Healthcare for Poor and Underserved
"Working With Clients With Limited English Proficiency: Mapping Language Access in Occupational Therapy", Occupational Therapy in Healthcare
,
Service to the Community
Dr. Mirza's scholarship builds on her long-term and ongoing collaborations with community organizations in the Chicago area, such as the Illinois Coalition of Immigrant and Refugee Rights and Asian Human Services. Dr. Mirza also serves on the Illinois Refugee Health Task Force, which is a coalition of refugee resettlement agencies, health centers, and other community-based agencies in Chicago.
Leadership in the Profession
American Occupational Therapy Association, Member
Illinois Refugee Health Task Force, Member
Illinois Refugee Mental Health Task Force, Chair, Working Group on Language Access in Services
Notable Honors
2015-16 - Faculty Fellow, Institute for Research on Race and Public Policy, University of Illinois at Chicago
Education
BS, Occupational Therapy, University of Mumbai, Mumbai, India, 2002
M., Occupational Therapy, University of Illinois at Chicago, 2004
PhD, Disability Studies, University of Illinois at Chicago, 2010
Postdoctoral MS, Health Services and Outcomes Research, Northwestern University, Chicago, 2012