ASAP Bootcamp: Reboot your semester
Wednesday, September 30, 2020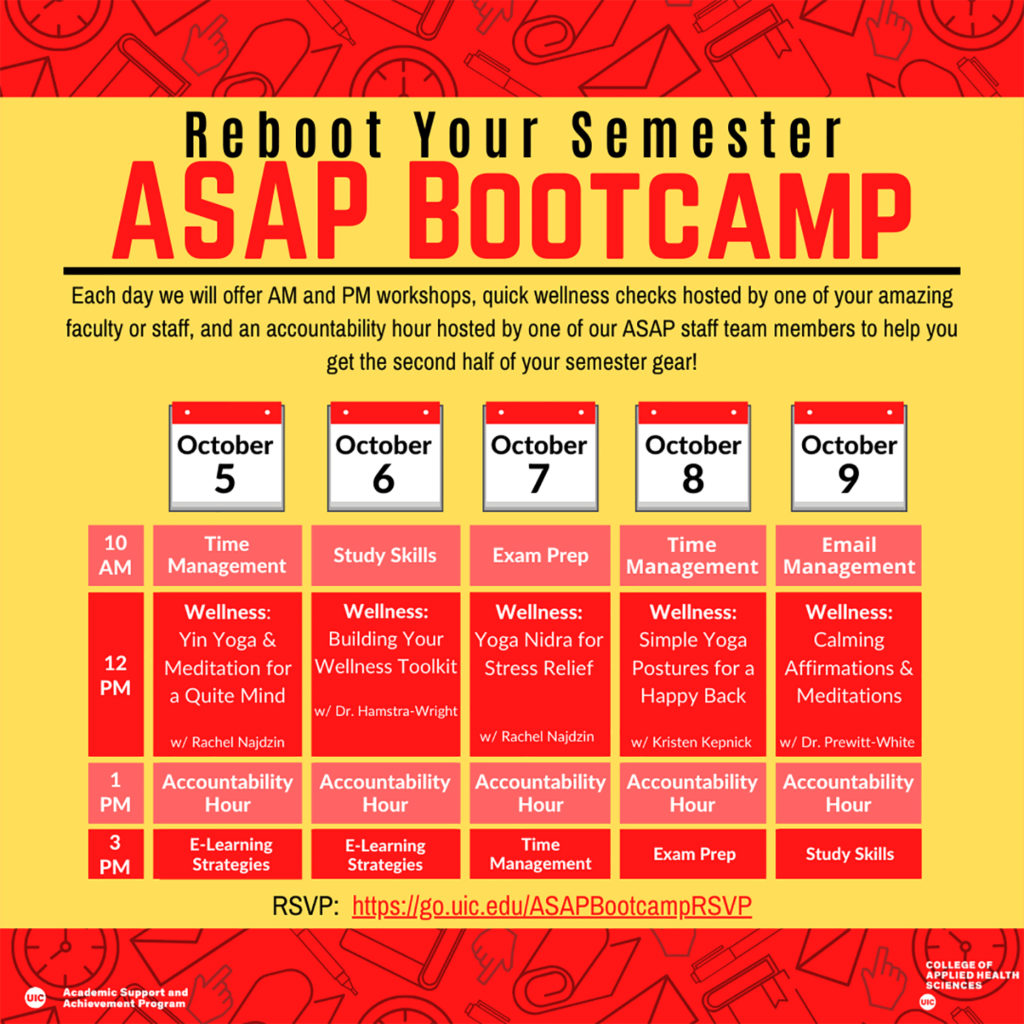 Dear Students,
You spoke, we listened! If you are among the students feeling overwhelmed by this unusual semester, we are offering an ASAP Bootcamp filled with workshops to help you reorganize and re-strategize your semester and take care of your mental health.
ASAP Bootcamp: Reboot Your Semester
RSVP HERE and get the link for the sessions
(RSVP is appreciated but not required).
Review the schedule and plug in what you need to get your second half of the semester in gear. Each day we will offer AM and PM workshop options, offer a quick wellness check hosted by one of your amazing faculty or staff as well as hold an accountablity hour hosted by one of our ASAP staff team members.
Wellness break details: Rotated by our amazing faculty and staff, meditate, do yoga, fitness, or just chat with professionals to destress.
Accountablity hour details: Do homework, or work on practicing any one of the skills learned in our workshops! Use this hour to hold yourself accountable to not stray and actually get work done. This hour will be in silence, if you want additional support on material, message the staff person to request a breakout room so they can either assist you or refer you to an appropriate contact.
Workshop details: Covered in 40 minutes or less, these workshops give you tangible takeaways for you to immediately apply. You already know its important, now implement the skills! The ASAP team will be available for the rest of the hour to individually support you should you want additional feedback.
Time Management. Organize your semester! The key to success is good management, especially in online learning. Manage your time and see all the elements fall into place. If you're feeling the weight of midterms, this interactive workshop helps you to better manage your time and responsibilities. Learn exactly how you spend your time, where you have free time, and techniques to help you track and achieve your goals. Reduce stress! And have more time!
E-Learning. Find success as a virtual student! This workshop offers a general overview on the components needed to be an effective virtual learner, including how to budget your time, cater your environment to your needs, remove distractions, implement discipline, and evaluate your hurdles to success. Being remote offers the opportunity to build productive habits for virtual class time, remote studying and beyond!
Study Skills. Make the most of your study time! Some courses encourage different ways of studying and sometimes that can require an adjustment for students. The study skills workshop helps you better understand your unique learning style, pick up tips for studying (in and outside of class) and offers other helpful study strategies to consider. Regardless of your year in school, if you're looking to explore different study habits, you will find this workshop impactful for improving your current study routine!
Exam Prep Workshop. Equip yourself with the skills to succeed on your next exam! Help reduce your testing anxiety by having a plan of attack for your exams. We'll walk through the exam planning for seven days leading up to your exam. Learn to create a study guide from your syllabus, textbook and/or study notes and pace them in a manageable timeline. This session also covers test taking strategies for various types of exams. Bring any subject materials from your current course to follow along and make it applicable for your upcoming test.
Email Management Workshop. Feeling overwhelmed by your inbox? We know the feeling! Let us help you get organized and stay on top of your email in the future. We will walk through strategies to filter incoming messages, organize folders, and declutter "the noise". We'll share our best tips on managing, prioritizing, scheduling email time, and how to craft a succinct message to make life easier for you and those you're communicating with to reduce the email ping pong.
Again sign up at https://go.uic.edu/ASAPBootcampRSVP. We are here for you! Come and consider part taking in these activities before midterms.
Sincerely,
Your Academic Support and Achievement Program (ASAP) Team
The College of Applied Health Sciences
ahsASAP@uic.edu
go.uic.edu/ASAP