UIC's Institute on Disability and Human Development Presents at AUCD Annual Conference
Wednesday, November 21, 2018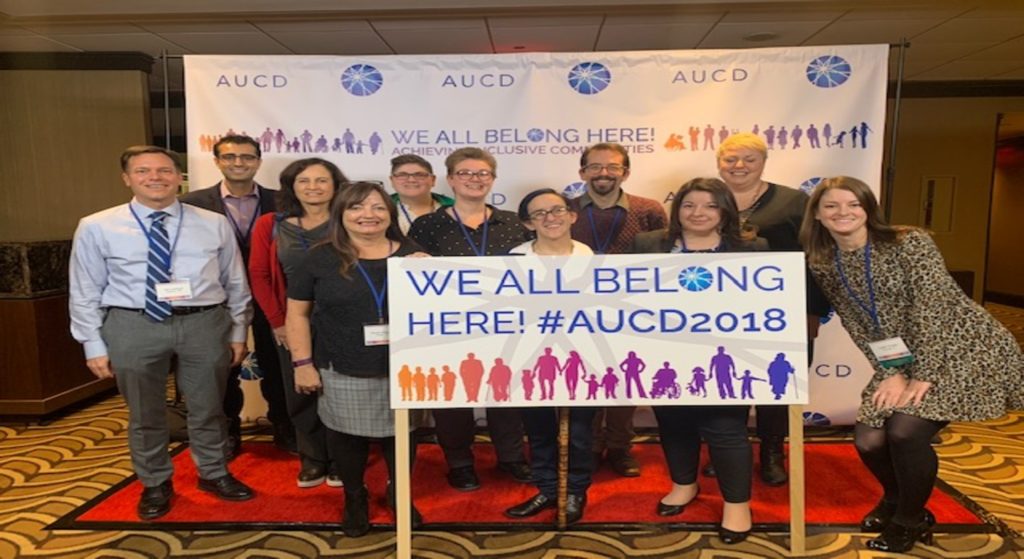 UIC's Institute on Disability and Human Development (IDHD) and Leadership Education in Neurodevelopmental and Related Disabilities (LEND) had quite the turnout at the Association of University Centers on Disabilities (AUCD) annual conference held in Washington, DC! IDHD is the University Center for Excellence on Developmental Disabilities (UCEDD). Students, faculty, LEND trainees, self-advocates, alumni, and others associated with IDHD presented a variety of work around disability. AUCD provides an opportunity for trainees, faculty, employees, and people with disabilities to engage with researchers and leaders in other states. The theme at AUCD this year was "We All Belong Here! Achieving Inclusive Communities." Below are the poster and panel presentations.
Posters:
Faculty member Brian R. Grossman presented poster on work with PhD student Courtney Mullin examining the invisible labor performed by Medicaid users moving across states entitled "Working to Move: The Hidden Work of Medicaid Personal Care Assistance (PCA) Services Users Planning and Pursuing Cross-state Moves"."
Faculty member Brian R. Grossman, PhD student Angelica Martinez, and PhD candidate Ellyn McNamara presented their poster "Evaluating Spanish Language Access in State and Territory Assistive Technology Program Websites" of a national evaluation of information about Assistive Technology in Spanish. This project is a joint endeavor between Illinois LEND and the Assistive Technology Unit.
Faculty member Brian R. Grossman presented a poster with collaborators Katie Arnold (PhD candidate), Joe Caldwell (alumni), and Tamar Heller (Director of IDHD) on the federally-funded Family Support Research and Training Center'snational strategic plan for family support research. The poster is entitled, "Family Support: Strategic Research, Promising Practices, and Policy Implications"
PhD students Courtney Mullin and Nell Koneczny had a poster called "2018 Chicago Disability Studies Conference, From the Margins to the Center: Disability Studies in Other Disciplines".
Faculty member and PhD alumna Kate Caldwell presented a poster: "Inclusive Outcomes for Social Entrepreneurs with Intellectual Disabilities: What Happens When They Act".
IDHD research specialist Kaitlin Stober presented her poster "Future Planning for Professionals: Evaluating a Multistate Training Intervention".
Former postdoctoral fellow Robin Dodds presented her poster entitled "Exploring Text-Based Peer Support in Parent to Parent Networks".
LEND Director and faculty member Kruti Acharya presented a poster entitled "Disrupting the Institutional Bias Embedded in Prenatal Screening to Reach Broad Populations of Families and Professionals".
PhD candidate Ellyn McNamara, PhD student Angelica Martinez-Perez, and former LEND trainee Gabriel Anzueto presented their poster "Improving the Access to Assistive Technology in Latino Communities: A Community-based Intervention".
PhD student Nell Koneczny presented her poster "Promoting the Creation of Accessible Classrooms in Higher Education".
PhD alumna Jessica Awsumb presented her poster "Closing the Gap: A Research-to-Practice Partnership to Improve Transition Outcomes for Young People with Disabilities".
Panels:
PhD candidate and IDHD research specialist Caitlin Crabb presented on a panel session "HCBS Settings Rule Updates and How UCEDDs Can Play a Role in Implementation In Their States" along with speakers from two other UCEDDs. The panel discussed the Home and Community-Based Services Settings Rule which is used to determine what settings are considered institutional. The speakers talked about how their state UCEDDs were involved in advocacy and planning efforts around the Rule.
Tia Nelis, a previous UIC self-advocacy specialist, participated in a concurrent session entitled "Enhancing Inclusion: Creating Plain Language Version of the MCH Leadership Competencies to Increase Inclusion of LEND Trainees with Developmental Disabilities" and another concurrent session "What is Community Living? A Dialogue and Listening Session about Various Models of Residential Services".
DHD PhD candidate Katherine Perez presented in a concurrent session entitled, "Intersectional Identities, Inclusion, and Belonging: Research and the Disabled Latinx Community" in which they described the efforts National Coalition of Latinxs with Disabilities (CNLD) in conducting intersectional research and connecting it to grassroots development, advocacy, and policy efforts.
DHD PhD alumnus Joe Caldwell presented in a session called "Medicaid Managed Long-Term Services and Supports: An Opportunity for Inclusion?" that discussed the reasons for the shift to managed care along with best practices within managed care.