Being whole again
Tuesday, September 20, 2022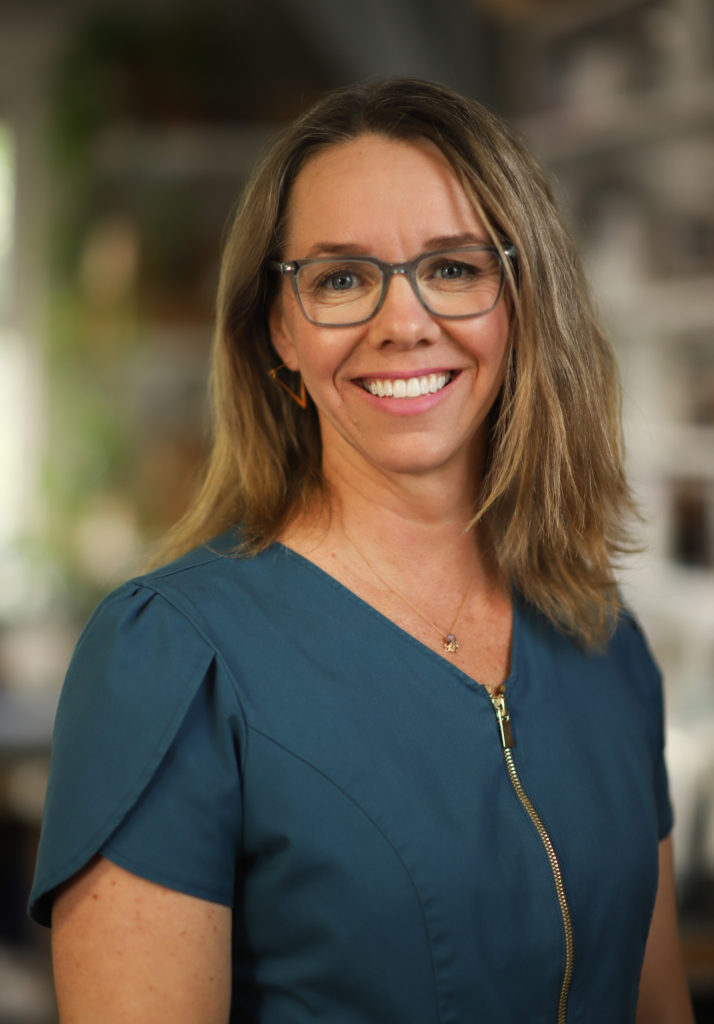 A man whose face was ravaged by cancer, leaving a hole where his nose used to be.
A boy who lost both ears in a dog attack.
A woman whose hands were amputated due to sepsis.
Using art, skill and science, Allison Long Vest '04 MS BVIS gave them back their lives.
Vest is an anaplastologist—one of 44 board-certified clinical professionals in the world—who creates extraordinarily realistic prostheses for injuries that damage not only the body, but the spirit.
"It's a huge honor to be part of a person's transition to being whole again," she says.
Vest's practice, Mosaic Prosthetics in McKinney, Texas, is the subject of a three-part reality series, "Body Parts," streaming on the Discovery Plus network. Each episode tells the real-life stories of different patients who represent the scope of her work.
When Vest meets patients in her office for the first time, they are often anxious and uncertain, even ashamed. She puts them at ease with her friendly, matter-of-fact manner.
"I admit, I have a no-fluff type of personality," she says.
"Just acknowledging that I understand what you're going through, I've seen it before, and there are other people who've been through this, can be very effective."
Because her patients are emotionally vulnerable, it's important to make them part of the planning and decision-making during each visit.
"Managing expectations is a huge part of it," she says.
When the prosthesis is done and in place—when she hands them the mirror—some patients look right away. Some hesitate for a few seconds. When they finally see the results, they're speechless.
"You put in a lot of work, but you really don't know what you've achieved until you put it on them," she says.
Vest's path to the Biomedical Visualization Program was similar to many of her classmates. She was majoring in art and anthropology at New College of Florida when a career counselor told her about medical illustration.
"I thought it was brilliant, I thought it was perfect," she says.
As a BVIS student, she took a class in facial prosthetics taught by Ray Evenhouse that required each student to sculpt a replica of a classmate's nose. That led her to the anaplastology track with clinical work at the UI Health Craniofacial Center.
"I think the reason why I took the prosthetic route in the biomedical visualization program was working with patients and seeing that you're making a real change in people's lives," says Vest, who also trained at University of Florida dental school and Morriston Hospital in Swansea, Wales.
After graduation she joined Greg Gion '81 BS BVIS at his practice in Dallas. Several years later, when Gion relocated to Wisconsin, she bought the practice and moved to nearby McKinley.
Mosaic Prosthetics is located in a charming old house that doesn't look like a medical facility, which makes her patients more comfortable—especially children, who often have white-coat anxiety after undergoing multiple medical procedures.
Vest's patients range in age from 6 to 102, usually referred to her by surgeons and dermatologists. She creates non-weight-bearing prostheses of ears, noses, eyes, fingers, toes, foreheads and more, sculpted from silicone, designed and colored to match each patient's appearance. Each case requires so much time, both in patient consultations and fabrication, that she rarely sees more than two patients a day and about 60 a year. Total charges for each case range from $5,000 to $13,000.
Because the profession is so small, anaplastologists often share information about techniques and methods. Akhila Regunathan '03 BVIS, at the Institute for Reconstructive Sciences in Medicine in Canada, is a colleague.
"It's like a close-knit family, and most of us just want what's best for the patient," Vest says.
Vest is president of the International Anaplastology Association and former president and longtime member of the Board for Certification in Clinical Anaplastology.
So it's not surprising that a production company contacted her in 2019 about making a reality show for The Learning Channel.
She was concerned about her patients' privacy, but "they were so encouraging, like, 'Why would you not do this?'
"And I was surprised by how much I didn't care that there were cameras in my face. It didn't faze me one bit, and it was a way to be of help to more people by getting our message out. Anaplastology has kind of existed in the shadows, and I thought we could use a little exposure."