New Students
Welcome to AHS!
Are you a newly admitted AHS student? You're in the right place! Here you'll find information and resources to help you identify and take your next steps as an AHS student.
We envision a world in which every person can live a healthy and self-determined life. Do you?
Undergraduate student checklist
Now that you've been admitted, complete next steps to launch your educational journey with AHS.
Accept your admissions decision and submit your intent to enroll
Take your placement tests
Participate in UIC Orientation to learn about campus resources, clubs and organizations, research opportunities, internships and more. Participation is required for all incoming freshman and transfer students
View a webinar hosted by your academic advisors. You will receive a link to the webinar once you complete the UIC Orientation
Connect with your academic advisor in a one-on-one appointment and receive your course schedule. Steps to make an appointment will be included with the webinar information
Register for courses via the XE Registration system
Re-admitted students
Students who are re-admitted to AHS are not required to participate in UIC Orientation. Contact the AHS Office of Student Affairs to obtain your academic advisor assignment.
UPCOMING EVENTS
There are several opportunities to learn more about our programs and connect with our faculty, advisors and students prior to enrolling.  Consider attending one of the following events to learn more:
Graduate and professional students
Newly admitted graduate and professional students should consult their respective AHS program to obtain information on new student orientation and prematriculation requirements.
AHS Summer Exploration and Transition Institute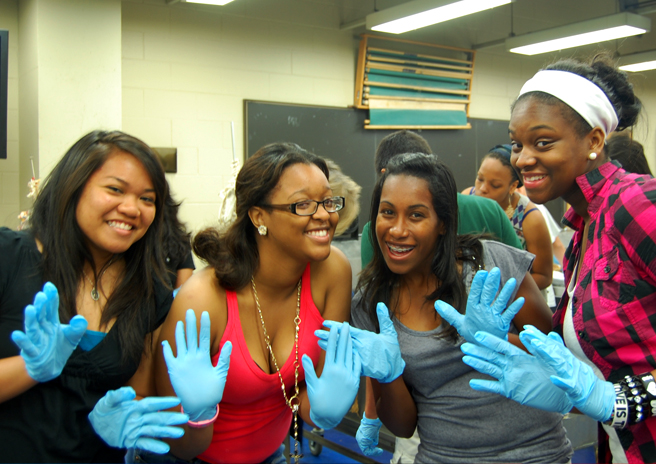 Looking for exciting jump-start to college? Participate in the AHS Summer Exploration and Transition Institute (AHS:SET)!
AHS:SET takes place over two days during the summer with the goal to engage and prepare AHS incoming freshmen and transfer students in a fun and interactive format.
Learn about academic course work, research opportunities and resources available to you for navigating the rigors of an AHS degree.
Sharpen your skills, make connections and learn about AHS – all before your first semester at UIC!
Freshmen
Go to my.uic.edu, click on "connect" and scroll down to "Summer College"
Transfer students
Go to go.uic.edu/AHSSET
We are happy to answer any questions you have
Address

1919 W. Taylor St.
516 AHSB (MC 528)
Chicago, IL 60612

Chat

go.uic.edu/AHSLiveChat