Paying it forward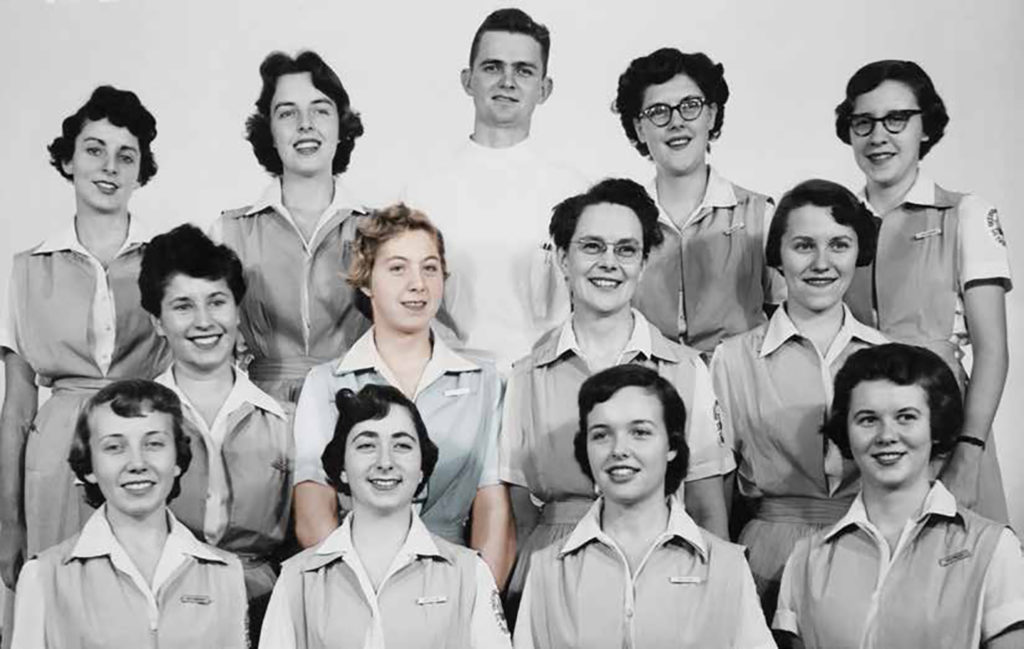 Endowed lectureship honors alumna's devotion to mentor, profession and family
This is a story about giving back, and paying forward.
It's the story of a student encouraged by her mentor to follow a career she loved. The student became a successful practitioner and, years later, used that training to help her former teacher.
And it's the story of a family whose respect for the life's work of their beloved wife and mother led to an endowment in her memory.
In 1951, Velma Russ left her family farm in Hamilton County to study occupational therapy at the University of Illinois. In those days, the program began with two years on the Urbana-Champaign campus, followed by two years at the U of I Chicago Medical Center.
Velma fell in love with an industrial arts student she met on campus from Chicago named Richard Reichenbach. They married in 1952 — a marriage that lasted more than 64 years — but kept it secret from OT director Beatrice Wade. It was not customary then for married women to have careers, and Miss Wade had made it clear she didn't want to waste her time training students who didn't intend to practice.
"I think she knew, though," Richard says with a chuckle. "She was a smart cookie, Miss Wade."
Occupational therapy was a small program and Wade took a personal interest in her students.
She "had the amazing ability to recognize the potential in each of her students, and somehow set up opportunities where that potential could be achieved," recalled Velma's classmate, Nedra Gillette, in a letter read at Velma's memorial service in 2017. "For Velma, it was in working with the elderly, and she became absolutely superb in that role."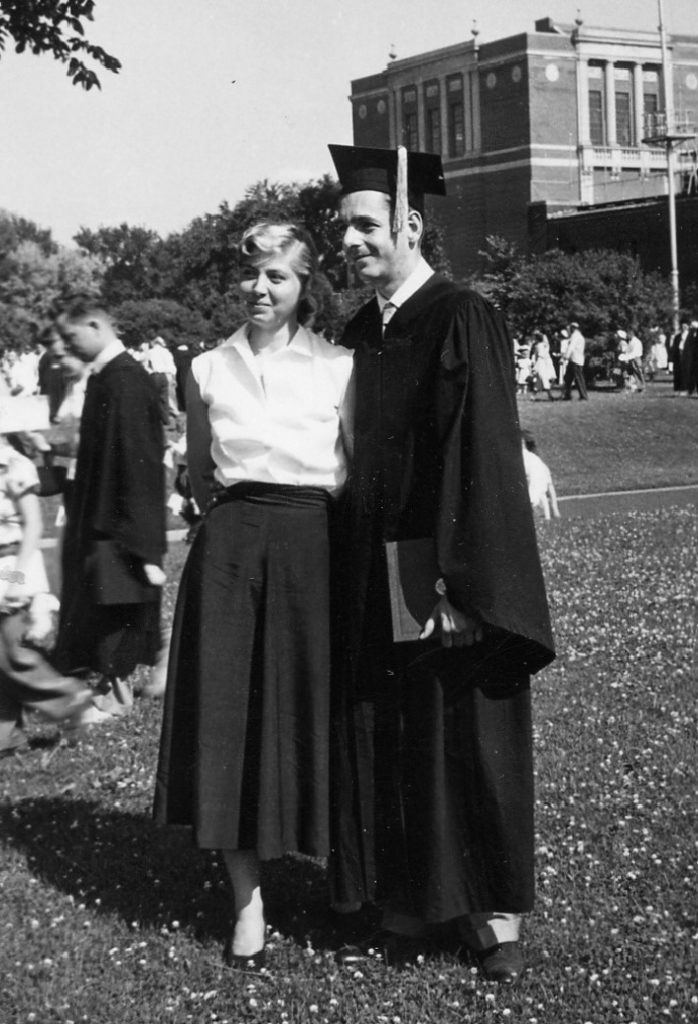 After she graduated in 1955, Velma was a staff member and consultant at nursing homes and home healthcare agencies in the Chicago area. She devised ingenious adaptive equipment for her patients, often with help from her husband, by then an industrial arts teacher.
Besides creating practical devices like adaptive silverware, Richard remembers making a toy flock of geese that bobbed their heads with the wave of a wand, pulled on a string.
"She was always trying to make things better for her patients," he says.
Devotion to duty
Velma never stopped learning, taking continuing education courses even after the family expanded to include three kids (Mike, Steve and Cheryl).
It's no surprise that in 1979, she was one of the first students to enroll in the college's new graduate program, master of associated medical sciences with specialization in occupational therapy.
She was motivated by "the attitudes toward aging, lack of care, and lack of occupational therapy involvement in this field where it is so obviously needed," she wrote in her application.
Velma was in the forefront of research and practice for occupational therapy in home healthcare, says Gail Fisher, clinical professor and associate department head of occupational therapy.  She was one of the first to focus on using OT to treat incontinence for older people.
After completing her degree in 1981, Velma was director of an adult outreach program, then manager of occupational therapy home health services at Medical Personnel Pool.
She was a consultant at long-term care facilities and presented her work at conferences and in classrooms all over the country. She was named Occupational Therapist of the Year by the Illinois Occupational Therapy Association, as well as a fellow of the American Occupational Therapy Association.
"She always felt, because she was a pioneer in this area, that it was important to educate others about the role occupational therapy could have," Fisher says.
Her oldest son, Mike, is still amazed at the energy and devotion his mother gave to family, friends and career.
"She was incredibly dedicated," he says. "She would leave in the morning at 7, grabbing a handful of dry oatmeal to eat on the way to her car. She would be home at 5 or 5:30 and have dinner on the table at 6:30."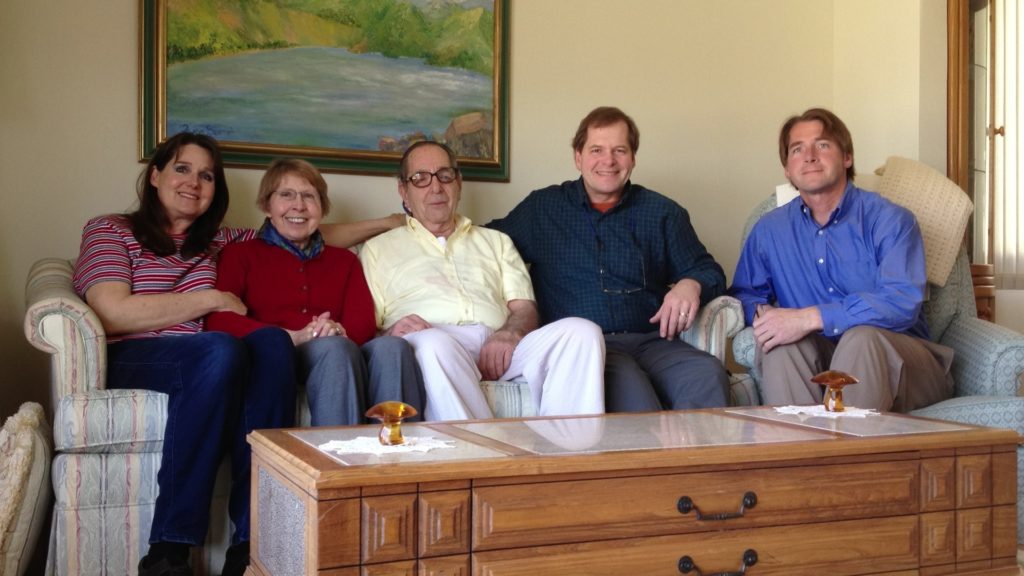 A lasting connection
Velma never forgot the role Beatrice Wade played in launching her into the career she loved. Years later, she learned that Miss Wade, then 90, had been hospitalized. She hurried to the hospital, where she found her weak, overmedicated and discouraged.
"Velma's care as a therapist and caring as a friend made all the difference," said Nedra, and within a week their former teacher was out of the hospital.
Velma helped organize a letter-writing campaign to lift Miss Wade's spirits, asking OT alumni to say how she had affected their lives.
Velma retired in 2010 after a stroke, but she remained connected to AHS. In 2016, a year before her death, she invited Fisher and faculty members Joy Hammel and Ashley Stoffel to her home to accept a gift: 50 years' worth of documents, as well as a personal interview about her long career, to be included in the archives of the department and the American Occupational Therapy Association.
At Miss Wade's memorial service in 1995, Velma announced a fund in her mentor's honor for an OT lecture series. That fund became the seed for the Velma Russ Reichenbach Endowment, recently established by her family with a $25,000 gift.
The fund will be used for a national-level speaker at the department's Scholarship of Practice Day, an event for students, alumni and area clinicians.
The lecture will "prepare our students with additional knowledge and skills just before they graduate," Fisher says. "It will help us to create better therapists."
With the endowment, her family honors Velma and her loyalty to the department and Beatrice Wade, Fisher added.
"They're paying it forward."