Reflection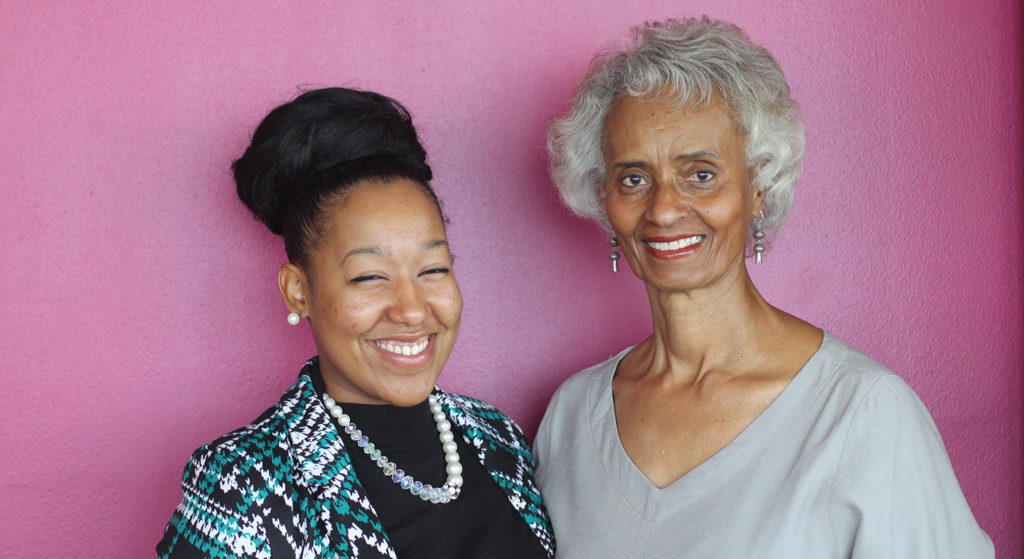 In summer 2015, Winifred Scott '57 BS OT, finalized a donation to the college that established the Winifred E. Phillips Scott Occupational Therapy Scholarship Fund, earmarked for OT students who have financial need and demonstrate a desire to practice professionally in African-American communities.
Not only is Dr. Scott an alumna; she was also head of the Department of Occupational Therapy for five years ending in 1986, when she was succeeded by Gary Kielhofner. After leaving UIC she went on to a second career as an organizational development consultant in the area of diversity. At 81, she has no immediate plans to retire.
We wondered about Dr. Scott's experiences as an African-American OT student in the 1950s and as the college's only African-American department head in history. We invited Briana Bonner—a current OT student, also a woman, also African-American—to conduct the interview. Happily, she agreed.
Briana, a first-generation college student, was a McNair Scholar as an undergraduate at Truman State University in Kirksville, Mo. The 23-year-old standout student will complete her master's degree in occupational therapy in July 2016 and intends to pursue a doctorate at AHS.
Briana went to Dr. Scott's apartment along Lake Michigan in Chicago's Kenwood neighborhood for this candid conversation.
Briana Bonner: When I was entering UIC, I was thinking that I would be the only one African-American OT student. And then, going through the history [presented by clinical associate professor of OT Gail Fisher], your face popped up on the PowerPoint! So it's a great honor to be sitting here with you.
Dr. Winifred Scott: Thank you, Briana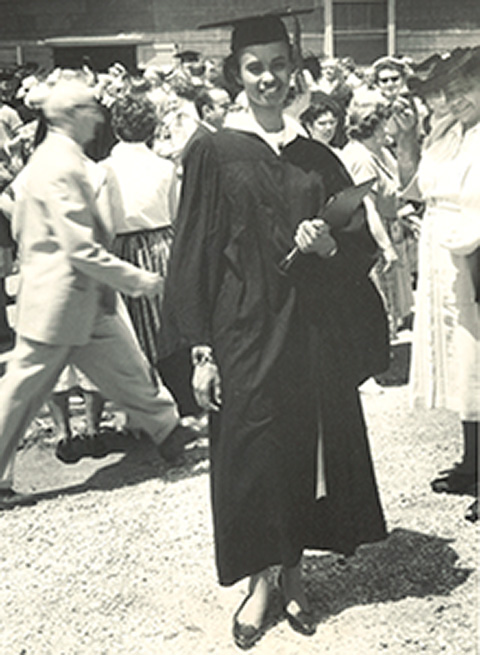 BB: Tell me about your background and your track to UIC and where you are now?
WS: I was born in Chicago in Cook County Hospital, and I've lived in Chicago for most of my life. I grew up on 61st and Langley, so I'm not very far now from where I lived then. And everything feels like yesterday. Life goes very fast.
I graduated from Englewood High School in January, because in those days we had mid-year graduations. And what I remember is that I had to be downstate at the University of Illinois[1] the next day. My father took me down to school to register, and to the dorm I would live in, LAR [Lincoln Avenue Residence]. And in those days there was segregation; they put most of the black girls on one corridor.
But in the dorm there were two girls who were roommates, and they were OTs. I remember them because they were so different from the other kids. They had painted their own furniture. They had something—a sense of self and sense of purpose. I really was impressed with them.
So as a sophomore without a major I took, you know, those preference tests and the results pointed to the field of occupational therapy and they pointed to law. I didn't want to do law, but occupational therapy—because I knew those girls—was of interest to me.
So when Bea Wade [founding director of U of I's OT program] came down to [Urbana], she interviewed me. Now, there were four kids in my family, and my mother thought that we should be somebody. So I had taken art lessons at the Art Institute. I took piano lessons from the time I was six until I was 17. I took dramatic art, and I learned how to sew. And all of that interested Bea Wade.
Miss Wade had me take was a class called "Decorative Processes," which was knitting, crocheting, hardanger embroidery—you've probably never heard of that—and Swedish weaving. They don't have any of those classes anymore, but I loved them. Everybody else was taking English Literature, and I was taking pottery and decorative processes and so forth. Of course, I was also taking human anatomy and kinesiology.
Then there were the "affiliations," the field work experiences. Do you still call them affiliations?
BB: We call them field work.
WS: Okay. We called them affiliations, and of course we wore those aqua uniforms.
BB: Yes. I saw pictures in the hall [of the OT floor at 1919 W. Taylor].
WS: When we visited possible affiliation sites—taking field trips to state hospitals and such— we wore gloves and hats. In those days there weren't panty hose, so Bea Wade would make us bend over wearing our aqua uniforms to be sure she could not see the top of our stockings.
BB: Wow!
WS: Anyway, my second field work experience was psychiatry, and I loved it. It still is what I would do if I were working as an OT. When I was downstate, the barbers on campus would not cut black boys' hair, and I picketed in front of the barbershops. I bring that up because that's a thread that has taken me all through my life. I have always been interested in social justice issues, and OT is a social justice profession in its work with people with disabilities.
BB: I'm leaning toward mental health as well.
WS: Are you? Why does it interest you?
BB: Because I live near South Beverly and I went to Morgan Park High School, so I saw a lot of homelessness. And I always asked myself, "Why do my people have to go through this?" But now I'm aware that it's a mental health issue, and there has been a lot of closing of mental health facilities on the South Side of Chicago. So [as an undergraduate] I did, and even published, some research about developmental disabilities in adults.
And then I came across occupational therapy as a field to help people get back to the things they want to do, or venture into things they're motivated to do even if they have mental disabilities or traumatic brain disorder.
But before I started at UIC, I looked at the demographics [of OT degree programs] and thought, "I just got accepted to the No. 4 program in country, but am I going to be the only African American?" And my mom said, "This is God's way of telling you that you're supposed to go down this path." And so when I got here, there were two others and I was comfortable. Now, since coming to UIC, I'm able to see this vision for my life blossoming, and I'm adding more tools to my tool belt.
I really want to be able to go back into communities to be able to help support mental health. My aspiration is to open up my own neighborhood facility for anybody and everybody to come participate—to get people off the streets, to get families more involved in the lives of their relatives with disabilities.
WS: Yeah! Be who you want to be.
So, like you, when I graduated I wanted to work in psychiatry. There was an opening in a hospital in the [affluent, suburban] North Shore, but they would not hire an African-American OT. So I worked at Hines VA Hospital, West Side VA [now Jesse Brown VA Medical Center] and later at the U of I Hospital
During that time I had two children and my husband was in dental school at Howard University in Washington D.C. For his first two years I stayed in Chicago, but then we all moved [to D.C.] and I started to work at St. Elizabeth's Hospital, which is a psychiatric facility. That's where I really felt that I became skilled as a psych OT.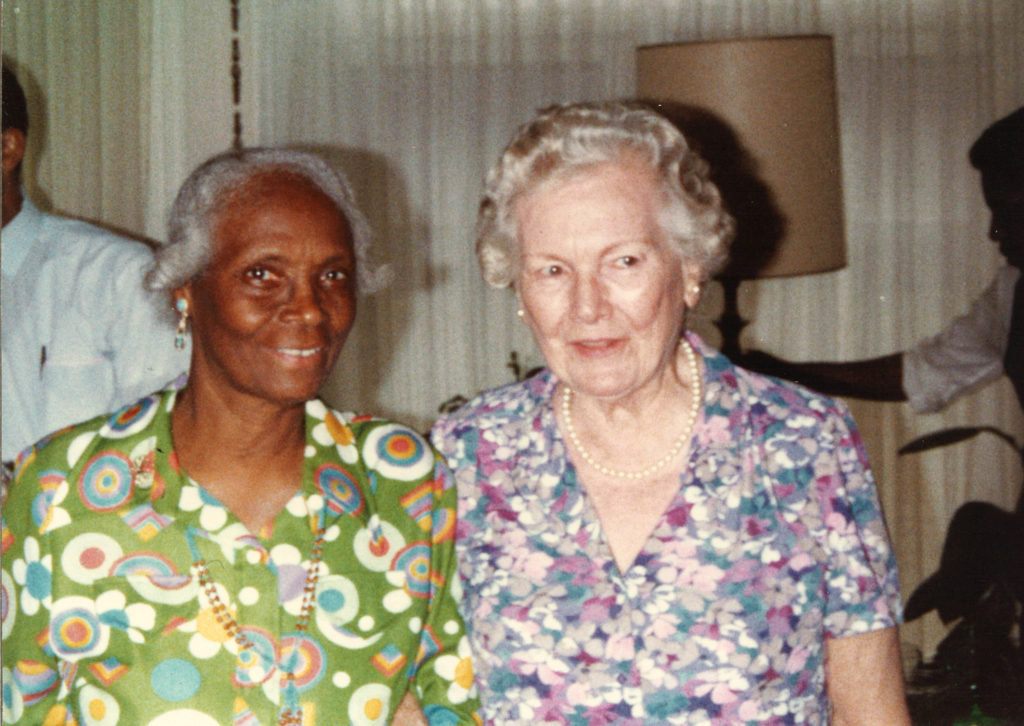 BB: What was it like to be a minority student in OT in the 1950s and later as department head?
WS: I really felt embraced by Bea Wade and my fellow students; they even chose me to be their representative for Spring Carnival [a former U of I tradition]. Bea Wade was very fair to me the whole time. That was my experience. Many years later when I graduated from the University of Chicago with my PhD, I had a party, and Bea Wade came.
As for being head of the department, that was a little bit harder. I had about 23 women faculty and staff, and they had ways of doing things that were very organized, and I was not organized in the same way. I had a long-distance vision, but it wasn't the step-by-step process they wanted. So I think I was hard for them. I got the job because I had a PhD in education, but in the five years I was head, I had five different deans, and my job was to 1. publish; 2. manage the undergraduate and master's programs and the hospital;'s OT department; 3. encourage tenured faculty with master's degrees to get PhDs; and 4. pursue community relations. It was a tall order for a new PhD.
BB: Do you have a favorite story or memory from your UIC years?
WS: After coming back from Washington D.C., I returned to a clinical faculty role [in the U of I Hospital]; I was head of psychiatric OT at [UIC's] Neuropsychiatric Institute. In those days there was a movement in psychiatry, to bring everybody in the community together, whether they were doctors or nurses or staff or patients. For us, everybody would come to the OT unit for community meetings once a week.
Well, we had a patient on the ward; a boy—12 years old, I think—who had anorexia nervosa and who smoked. He looked like an old man. He had gotten worse on the ward, and when I knew it was near the end, I suggested we have an impromptu community meeting in the OT unit. There, each person could talk if they wanted to. While we were together there, the boy died. His doctor came down in tears. It was so healing for the community to be together and for the patients to see how much [the doctors and staff] really cared for them. And this young doctor had someplace to come where he could talk about how distressing it was that his patient died. That was really a powerful experience for me.
BB: You've now given a donation to the UIC OT department to fund a scholarship. What do you hope your gift will accomplish?
WS: When I was a faculty member, we had a young woman from the Robert Taylor Homes apply to the program. Her GPA was probably a 3.5 out of 5. Growing up in the projects, you could just see what it took for her to apply. I really wanted [the admissions committee] to admit this girl, but they didn't, because we could get young women from the suburbs who would have a 4.5 GPA. That has stayed with me this 20 some odd years since I've been away from the university.
So I wanted to be able to support a young person, woman or man, who may not have had all of the means that they needed. I'm not giving enough for a full scholarship by any means, but it can encourage someone.
Besides that, I wanted to make a contribution back to the university because the university did give me a lot. It gave me a profession. And I just wanted to be able to support someone in a way that they need to be supported, however they need it.
BB: What advice would you give to students today who want to become leaders?
WS: Leadership is the ability to inspire other people with a vision. So I think it's important for people to think about what's important to them. Do some reflection about what you are, what you value, what you want, what motivates you and so forth. Know what you are about and what your vision is because you do touch people with that.
BB: What are you most proud of?
WS: My two daughters and my four grandkids. Everyone leaves a legacy in the way that they leave it; you don't think about that until you get old. I'm also proud of my involvement in social justice issues. I hadn't really thought about it until this conversation, but I realize now that that's been really important to me for my whole life.
[1] When Dr. Scott was a student, the program was split between the University of Illinois Urbana-Champaign campus, where students spent their first three years of general education, and the Chicago campus, where seniors completed a 16-month professional course.