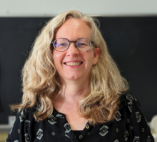 Mary Ellen O'Connor
Occupational Therapist, Assistive Technology Specialist, Assistive Technology Unit
Email
Office Phone
About
Mary Ellen O'Connor has been an occupational therapist since 2012, working in a range of settings from schools to Skilled Nursing Facilities, always with the aim of enabling and enhancing people's engagement in meaningful occupations. Prior to pursuing Occupational Therapy, Mary Ellen worked to identify appropriate web-based professional development tools for clients to help them meet their goals and customized their experiences as needed. She brings this client-centered focus into her work with the Assistive Technology Unit.
Service to the Community
Mary Ellen O'Connor provides Seating and Wheeled Mobility services and Assistive Technology evaluations and equipment implementations in the area of Technologies for Independent Living.
Education
MS in Occupational Therapy
University of Illinois Chicago
2012

BS in Psychology
University of Illinois at Urbana-Champaign
1996