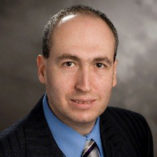 Jacob Krive
Clinical Associate Professor, Biomedical and Health Information Sciences
Focus Areas
Email
Office Phone
Office
1919 W. Taylor St., 233 AHSB
Office Hours
By appointment
Related Sites
About
Dr. Jacob Krive maintains industry and academic affiliations focused on biomedical informatics, healthcare data sciences, population health, and cognitive engineering. His research passions span such areas as clinical decision support systems, cloud computing for medical research, patient data management, predictive analytics, artificial intelligence, medical ontologies, economics of health informatics, healthcare project management innovation, master patient data management, and biomedical informatics curriculum design. In addition to his academic work, Dr. Krive is a clinical analytics leader at NorthShore University Health System. Dr. Krive received his BS, MS, and MBA degrees from University of Maryland University College, and PhD from Nova Southeastern University. He also holds CPHIMS and Lean Six Sigma professional certifications. Dr. Krive designed several courses for BHIS graduate programs, co-founded Healthcare Data Science track of the MS program, co-designed innovative elective AI course for College of Medicine students, founded cardio-oncology AI research lab, teaches and oversees student research, publishes, and presents his funded work internationally.
Selected Grants
Community Health Advocacy (CHA), Analytics and Artificial Intelligence for Cardio-Oncology, Co-Principal Investigator
Public Research Commons (PRC), Public Research Commons for COVID clinical data, Co-Investigator
National Institutes of Health (NIH), Clinical and Translational Science Award (CTSA), Institute for Translational Medicine (ITM) 3.0: Advancing health toward health equity throughout metropolitan Chicago, Co-Investigator / Research Analytics
Vanderbilt University Medical Center, Machine Learning Modeling for Cardio-Oncology & Predicting Cardiotoxicity, Co-Investigator
Service to the Community
Dr. Krive serves on the editorial board in the Associate Editor role with Computational & Structural Biotechnology Journal. He is peer reviewer for JACC, AMIA, HIMSS, JMIR, IJSISE, HCA, CRC Press, and other journals, conferences, and publishers.
Leadership in the Profession
Institute of Electrical and Electronics Engineers (IEEE), Senior Member
Computational & Structural Biotechnology Journal, Associate Editor for the "Smart Hospital" section
Notable Honors
2022 - Excalibur Award for Teaching Excellence, University of Illinois at Chicago
2018 - Excalibur Award for Teaching Excellence, University of Illinois at Chicago
2017 - Lab Service Award (for innovation in designing healthcare industry's first regulatory compliant medical research cloud), International Business Machines (IBM)
2016 - Golden Apple Outstanding Faculty Award, Nova Southeastern University
Education
PhD, Information Systems, Nova Southeastern University, 2013
MS, Management Information Systems, University of Maryland University College, 2006
MBA, University of Maryland University College, 2005
BS, Computer Studies and Management Studies, University of Maryland University College, 2002