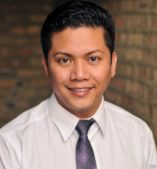 Gideon Ramirez
Clinical Assistant Professor, Biomedical and Health Information Sciences
Focus Areas
Email
Office Phone
Office
1919 W. Taylor St., 258 AHSB
Office Hours
By appointment
About
As BHIS Clinical Assistant Professor, Gideon is the faculty on record for the courses HIM 481 Healthcare Financial Management, HIM 432 Coding & Classification Systems, HIM 433 Coding & Reimbursement Systems and HIM 377 Current Issues in HIM. He is also primarily responsible for the Professional Practice Experience (PPE) courses for all campus and online students in Metro Chicago area. Gideon is a graduate of our Bachelor of Science in Health Information Management program and he was the recipient of Achievement Award - an honor given to one graduate per degree program for overall academic excellence and contributions to the profession. He began teaching as an adjunct instructor for the HIM program in 2013 and became a full-time faculty member in 2016. His expertise include healthcare regulatory compliance, revenue cycle, coding compliance audits, risk assessments, data analytics and outpatient electronic health record (EHR) implementations.
Service to the Community
Gideon serves in the UIC-College of Applied Health Sciences Alumni Board since 2013. As a board member, he participates in college fundraising efforts, organizing events, activities and opportunities that foster professional relationships. He also represents the HIM discipline and serves in the steering committee of the UIC-InterProfesional Education (IPE) and Collaborative Practice program.
Leadership in the Profession
American Health Information Management Association (AHIMA), Member
Notable Honors
- Registered Health Information Administrator (RHIA), American Health Information Management Association (AHIMA)
- Certified Coding Specialist - Physician (CCS-P), American Health Information Management Association (AHIMA)
- AHIMA-Approved ICD-10 CM/PCS Coding Trainer, American Health Information Management Association (AHIMA)
Education
Master of Business Administration - Texas A&M University
Bachelor of Science in Health Information Management - University of Illinois at Chicago