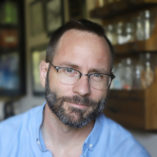 Cameron Slayden
Clinical Assistant Professor, Biomedical and Health Information Sciences
Focus Areas
Email
Office Phone
Office Hours
By appointment
Related Sites
About
Cameron started his scientific visualization career as Science Magazine's primary scientific illustrator in late 2000, producing illustrations and covers for the journal and animations for its online presence. Three years later, he began his Masters in Medical Illustration from Augusta University Health and continued to provide illustration and animation to the periodicals Science and Nature. After graduating in 2005, Cameron co-founded Microverse Studios under its original name, Cosmocyte. Since then Microverse Studios has produced award-winning animations for multi-billion-dollar pharmaceutical corporations, educational institutions, biotech startups, and produced scientific graphics for documentary TV series for Discovery, National Geographic, and the History Channel. Cameron currently helps to train BVIS students in using Cinema 4D and Redshift, and does anything else he can to bring an air of respectability to the term "Florida Man."
Service to the Community
Cameron Founded the Sci-Med-C4D email listserv, and the C4D Medical Animation for Students Discord Server, a resource that allows students real-time access to industry-leading knowledge and input to help solve problems at critical moments. He is also a regular speaker at the Association of Medical Illustrators annual meetings.
Education
Masters of Science, Medical Illustration, Augusta University, 2005
Bachelors of Science, Interdisciplinary Studies, University of Maryland Baltimore County, 1999