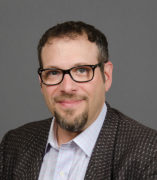 Eric Scott Swirsky
Clinical Associate Professor, Biomedical and Health Information Sciences
Director of Graduate Studies, Biomedical and Health Information Sciences
Focus Areas
Email
Office Phone
Office
1919 W. Taylor St., 250 AHSB
Office Hours
By appointment
About
Eric S. Swirsky, JD is on the health informatics faculty in the Department of Biomedical and Health Information Management at the University of Illinois at Chicago, where he also serves as director of graduate studies. Professor Swirsky also serves on the faculty of the rehabilitation sciences program and the UIC Honors College. Using his unique blend of experience and knowledge, Eric teaches courses in communication skills, professionalism, and ethics and legal issues in health sciences. He also lectures on topics related to intellectual property, negotiations, the impacts of social media and upon health care, end of life decision making, and other ethical and legal aspects of health care. Eric's scholarly interests revolve around the ethical conundra attendant to human interaction with computers and data. His areas of expertise reside in areas related to ethical use of information, medical technology, clinical intervention, and the sociotechnical milieu in which they converge.
Selected Grants
National Library of Medicine (NLM)/NIH, Chicago Initiative for Biomedical Informatics and Data Science Training (CIBIDS), Faculty mentor
College of Applied Health Sciences Annual Fund Grant, Diversity Ethics Research Project: Addressing the normative whiteness of bioethics, PI
Council for Excellence in Teaching and Learning, University of Illinois at Chicago – Departmental Teaching Excellence Award (DTEA), Teaching Excellence with eMedia Resources, PI
Publication Aggregators
Service to the Community
As an ethicist-attorney, Swirsky serves on UI Health's Ethics Committee, the Research Ethics Consultation Service, the editorial board of The American Journal of Bioethics, and his recent appointment to the Board of Directors for the Commission on Accreditation for Health Informatics and Information Management Education.
Leadership in the Profession
Commission on Accreditation for Health Informatics and Information Management Education, Director
The American Journal of Bioethics, Editoral Board
Teaching Recognition Program, Chair
Notable Honors
2017 - Honors College Instructor of the Year, UIC Honors College
2016 - The Excalibur Award for Teaching Excellence, College of Applied Health Sciences Student Council
2015 - Educator of the Year, College of Applied Health Sciences
2014 - Excellence in Teaching Citation, Council for Excellence in Teaching and Learning
Education
UNIVERSITY OF CHICAGO MEDICINE – MACLEAN CENTER FOR CLINICAL MEDICAL ETHICS
Fellow, 2012

AMERICAN UNIVERSITY – WASHINGTON COLLEGE OF LAW
J.D., 2000

UNIVERSITY OF WISCONSIN – MADISON
M.A., South Asian Studies, 1996

ITHACA COLLEGE
B.A., Religious Studies, 1991