Online BS in health information management ranked among top 5 in the nation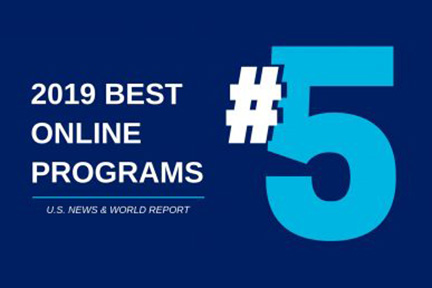 UIC's online bachelor's degree programs—which include health information management, nursing and business—were ranked fifth in the nation for 2019 by U.S. News & World Report.
Last year, UIC's online programs were ranked 15th.
U.S. News & World Report rated more than 300 programs for student engagement, student services and technologies, faculty credentials and training, and peer reputation. UIC tied with Pennsylvania State University–World Campus and University of Florida.
The Bachelor of Science in Health Information Management Degree Completion Program, in the Department of Biomedical and Health Information Sciences, combines cutting-edge practices and methodologies with real-world experience.
"Health information management is a great career choice for those who want to work in healthcare, but not directly with patients, incorporating skills from medicine, business and technology, said Karen Patena, clinical associate professor and director of health information management programs.
"Our online degree offers an alternative path toward eligibility for the Registered Health Information Administrator exam."
According to U.S. News, most students enrolled in the ranked online programs have earned at least some college credit. They are more likely to be working professionals in their 20s to 40s looking to advance in or change their careers.
To learn more about UIC's online bachelor's degree programs, visit UIC Extended Campus.