The human factor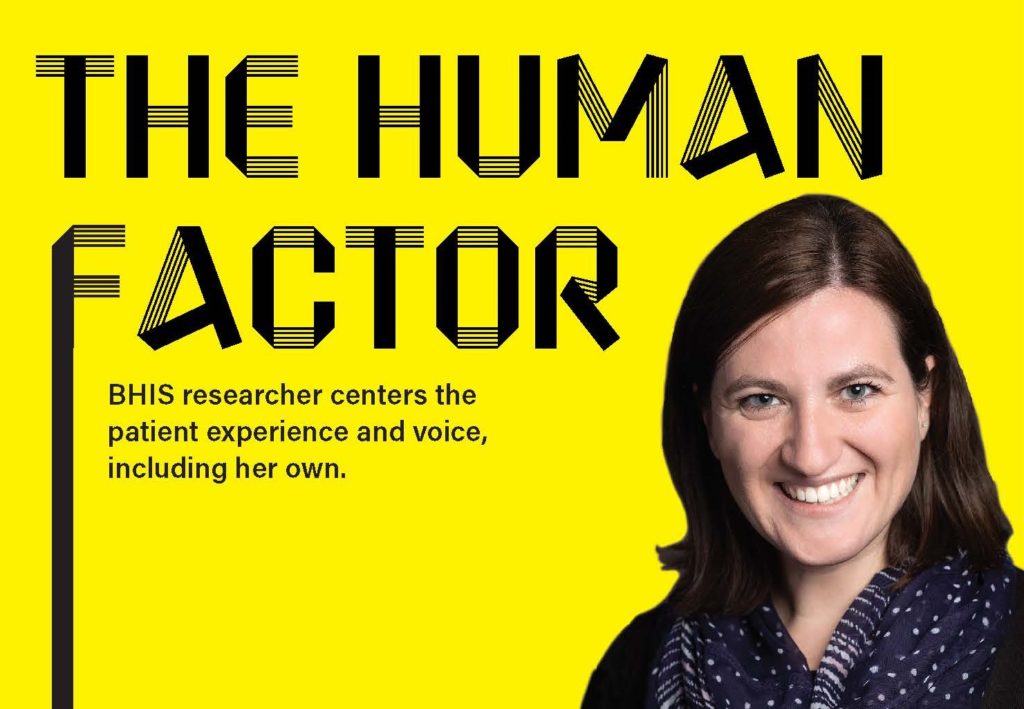 Scientist. Cancer survivor.
Elizabeth Papautsky lives both these roles, with one informing the other.
"There are unique things that I'm able to see by wearing both of these hats," said Papautsky, a human factors psychologist and research assistant professor of biomedical and health information sciences.
In spring 2020, when hospitals began canceling procedures due to increasing COVID-19 infections, Papautsky's follow-up treatments for breast cancer were suddenly in limbo. How many other women were similarly affected?
"I'm trained to look at gaps and vulnerabilities in systems," Papautsky said. "Some things, you can only see from the inside."
She partnered with Tamara Hamlish, a research scientist at the University of Illinois Cancer Center, to conduct a study that found that among about 600 breast cancer survivors, nearly half had their care delayed at the outset of the pandemic. This included follow-up visits, breast reconstructive surgery, diagnostic imaging, lab tests and radiation therapy.
The study highlighted "a serious gap in disaster preparedness" in providing critical, time-sensitive care.
As Papautsky herself discovered, in the early days of the pandemic, guidance for physicians and patients was uncertain or altogether lacking.
Papautsky wants the health care system to be better prepared next time (and experts predict there will be a next time). She believes her field, human factors, can play an important role.
"In human factors, we're concerned with how to represent information, data and knowledge in a way that's tailored to user needs," she explained.
"There's a lot of focus on technology advancements being thrown at problems, without understanding the problem spaces or the people who are navigating these problem spaces."
Her latest research, funded by a $250,000, one-year grant from the National Comprehensive Cancer Network and Pfizer Global Medical Grants, "is really about communication and education."
She and her research team will develop a multimedia toolkit to share information with patients and providers about biosimilars, a new type of medication to treat HER2 positive breast cancer that is more cost effective and accessible.

She is leading a "dream team" that includes oncologists Maryam Lustberg, chief of breast cancer oncology at Yale Cancer Center; Deanna Attai, breast cancer surgeon at UCLA; and patient collaborators Martha Carlson and Sheila McGlown. All four are involved in #BCSM (Breast Cancer Social Media), a Twitter community that began in 2011 to bring together patients, survivors, clinicians and advocates to share information, resources and support.
Two things make Papautsky's project unusual: the integral role of patient collaborators and the use of social media, especially Twitter, to get a better understanding of the issues and reach out to research participants.
"The patient perspective is very undervalued in health care, and one of the ways to achieve that culture shift is to partner with patients in research," Papautsky said.
The patient partners on our team are true collaborators. They'll be with us across the entirety of the research, bringing the perspective of patient experience to the table.
The use of social media in this type of research is also novel, Papautsky said.
"We are doing some traditional approaches—interviews and focus groups—but the social media component is central to all of this. We're using it as a mechanism to support our research," she said.
Papautsky became interested in human factors psychology as an undergraduate at Indiana University.
"It all clicked into place—why wouldn't we tailor solutions to the people who are going to be using them? It seemed like the obvious thing to do. Come to find out, that's not at all the case, even now."
After completing her Ph.D. at Wright State University, she conducted research as a government contractor, studying cognition in real-world complex environments on projects primarily funded by the Department of Defense. She worked in a variety of areas, but after 10 years she wanted to find her own focus.
"Through personal family experiences, I became very interested and passionate about health care—particularly the role of patients and caregivers in the clinical information space. How do patients and caregivers navigate the patient journey? What information do they seek and what information do they contribute?"
Changing her research focus meant changing her career.
"The only way I could truly do the work I was interested in was by transitioning my career into academia," she said. Because she spent so many years in industry, where publishing is not a priority, "in a way, I started all over again," but it was worth it, she said.
Her path to the Department of Biomedical and Health Information Sciences began when she Googled "faculty at Chicago universities doing human factors research" and connected with Joanna Abraham, a faculty member at the time (she's now at Washington University in St. Louis).
Papautsky's fit in the department seemed "quite natural," she said. "Informatics and human factors overlap. Both are ultimately concerned with how information is represented, whether for design of technology or paper solutions."
She also works with biomedical visualization students to create visuals for her manuscripts and recently agreed to be graduate adviser to a biomedical visualization student.
Besides teaching graduate-level courses in qualitative methods and human factors and cognition, Papautsky is collaborating on several other studies: with Hamlich in the Cancer Center, on community support for young breast cancer survivors; with Avident Health to develop and evaluate an application for patient navigators working with breast cancer patients; and a UIC Center for Clinical and Translational Science pilot grant with bioengineering and public health researchers to develop a user interface for complex sensor systems.
But the project with her "dream team" is closest to her heart.
"I see this project as the starting point," she said.
I want to amplify the need to incorporate patient experience and patient voice into any and all solutions and interventions in health care.
"Another thing that I'd like to see as an outcome of my research is highlighting the need for partnering with patients—how can we start to normalize that? How can we highlight that as not just a benefit, but as integral to the design of human-centered solutions?"