UIC climbs to No. 3 in U.S. News Best Online Programs rankings
Tuesday, January 14, 2020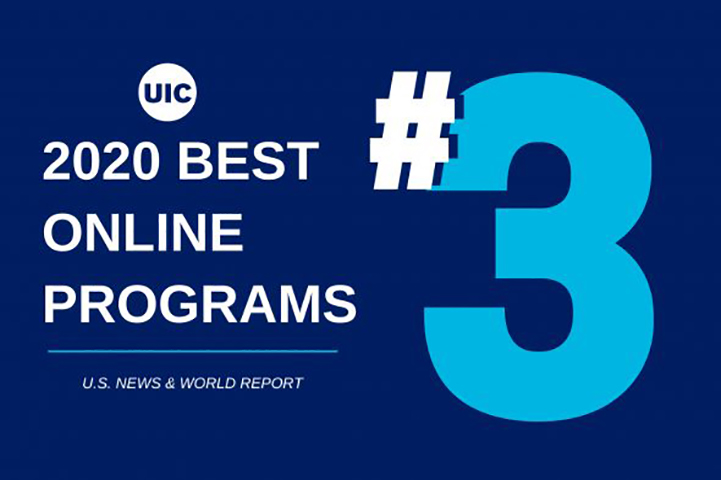 UIC was ranked No. 3 for its online bachelor's degree programs—including health information management in the College of Applied Health Sciences—in the 2020 U.S. News & World Report Best Online Programs.
The UIC ranking, which also includes programs in business administration and nursing, has climbed over the last three years from No. 15 in 2018 to No. 5 in 2019.
The report evaluates 353 schools on criteria including engagement, student services and technologies, faculty credentials and training, and expert opinion.
The Bachelor of Science in Health Information Management Degree Completion Program prepares students for a range of health information careers, including analytical roles, project management and health care system management.
"The medical, administrative, ethical and legal requirements of today's sensitive environment for health information make this an essential and exciting field," said Karen Patena, clinical associate professor and director of health information management programs.
"Health information management offers a wide range of job opportunities, from analytical roles to project management to health care system management. Our online program offers eligibility for the Registered Health Administrator (RHIA) credentialing exam, as well as a seamless transition to a career in the health care industry for those do not wish to attend daytime campus classes due to home or work responsibilities, or travel distance."
According to U.S. News, most students enrolled in online bachelor's programs have earned at least some college credit and are more likely to be working professionals in their 20s to 40s looking to advance or change their careers.
"UIC is committed to increasing access to quality online options for working professionals who cannot get to campus. Our faculty and staff's dedication to student success is reflected in UIC's No. 3 ranking," said Susan Poser, provost and vice chancellor for academic affairs.
"In today's ever-changing labor market, working professionals look to UIC for a wide range of innovative educational opportunities to continuously up-skill and re-skill," said TJ Augustine, interim vice chancellor for innovation. "This ranking reinforces UIC's position as a leader in advancing online education that meets the demands of the 21st century workforce."
To learn more about UIC's online bachelor's degree programs, visit UIC Extended Campus.