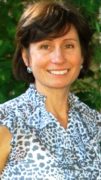 Kathy Gartlan
Physical Therapist, DHD Family Clinic
Email
Office Phone
About
I am a physical therapist working in the early intervention program at UIC-CFDC.
Service to the Community
Community / Environmental Activism Serviced on multiple Parent-Teacher Organizations including a group for parents of children with learning disabilities / differences.
Notable Honors
- Credentialed as an Early Intervention Specialist in Physical Therapy, Illinois Department of Human Services
Education
Bachelors of Science in Physical Therapy, University of Illinois at Chicago, 1987.
Early Intervention Specialist.