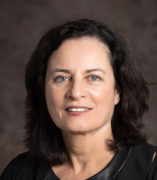 Tamar Heller
Director, DHD Family Clinic
Distinguished Professor, Department Head, Disability and Human Development
Email
Office Phone
Office
1640 W. Roosevelt Rd., 436 DHSP
Office Hours
By appointment
About
I am a distinguished professor and head of the Department of Disability and Human Development at the University of Illinois at Chicago. I direct its University Center of Excellence in Developmental Disabilities, Rehabilitation Research and Training Center on Developmental Disabilities and Health, Developmental Disabilities Family Clinics, and TAP autism program.
My research focuses on policies and practices to support individuals with disabilities and their families across the life course. Specific research projects focus on self-directed and family supports, managed care, and health promotion interventions for individuals with disabilities. I have written over 200 publications, including 5 books.
I am a founding member of the national Sibling Leadership Network and Bridging Aging and Disability International.
Selected Grants
National Institute on Disability and Rehabilitation Research, Rehabilitation Research and Training Center on Developmental Disabilities and Health, PI
National Institute on Disability and Rehabilitation Research, Rehabilitation Research and Training Center on Family Support, Co-PI
Administration on Developmental Disabilities, University Center for Excellence in Developmental Disabilities for the State of Illinois, PI
Leadership in the Profession
International Association for the Scientific Study of Intellectual Disabilities, Vice President of the Americas
Association of University Centers on Disabilities (AUCD), Former President (2008-10)
Special Interest Group on Aging, Association of University Centers on Disability, Chair
Notable Honors
2012 - International Award, Association of University Centers on Disability
2009 - Autism Ally for Public Policy Award, The Arc/The Autism Program of Illinois
2008 - Lifetime Research Achievement Award, International Association for the Scientific Study of Intellectual Disabilities, Interest Group on Aging
2005 - Delegate, White House Conference on Aging