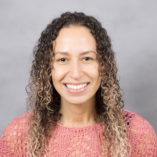 Viviana Kabbabe-Thompson
Assistant Dean, Student Affairs, College of Applied Health Sciences
Email
Office Phone
Office
901 W. Roosevelt Rd., 356 PEB
Office Hours
By appointment
About
As the Assistant Dean for Student Affairs my focus is on the undergraduate experience. I oversee coordination efforts among advisors who work with our undergraduates as well as direct the Academic Support and Achievement Program (ASAP), a resource center for undergraduate students in AHS. ASAP initiatives includes daily tutoring, regular academic and career-related workshops, and community building for undergraduate students in the college. ASAP provides academic and social support in order to graduate competent and UIC connected professionals in the various health fields.
My goal is to lead initiatives that support the overall retention and achievement of students. The Applied Health Sciences: Summer Exploration and Transition Institute (AHS SET), a program for new freshman and transfers as they first join us at UIC, is one example of these initiatives.
If you are having any problem and are unsure where to go, you are always welcome to come see me to assist you. If I don't know the answer, I will help you get connected to someone who can help you.
Service to the Community
Physical Therapy Assistant Advisory Board, Member, Malcolm X College, Mar 2016 - Present Chancellor's Committee on the Status of Latinos (CCSL), Nov 2017 – Present Chancellors Committee on the Status of Sustainability, Sep 2021 – Present Early Alert Implementation Working Group (EAIWG), Dec 2015 – Present Neighborhood-Space Campbell Community Garden of Humboldt Park, May 2021 - Present
Education
Master of Education: Curriculum and Instruction, College Student Affairs, University of South Florida (USF), May 4, 2007
Graduate Certificate in Career Counseling, University of South Florida (USF), May 4, 2007
Bachelor of Science: Interdisciplinary Social Science & Sociology, Florida State University (FSU), April 13, 2005