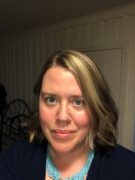 Sayard Bass
, Disability and Human Development
Focus Areas
Email
Office Hours
By appointment
About
Sayard's initial interest in Alternative and Augmentative Communication branched into Assistive Technology. She is currently the assistive technology coordinator for Southwest Cook County Cooperative Association for Special Education. She also presents locally, via webinar, and nationally on topic such as Transition, AAC, and Implementation.
When not learning about or speaking about Assistive Technology Sayard enjoys reading, story telling, triathlon, and trying new things.
Education
With a BA in Speech Communications from the University of Illinois Champaign-Urbana, (2004) and an MS in Communication Sciences and Disorders from Illinois State University (2010), Sayard has immersed herself in the study of communication for the past two decades.