Expanding independence
Thursday, February 23, 2017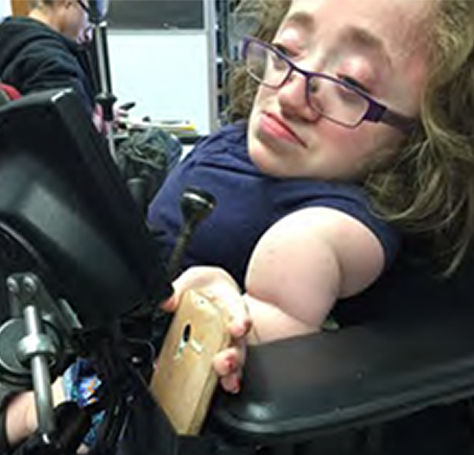 UIC's Assistive Technology Unit (ATU) has been providing services to underserved individuals with developmental disabilities in northern Illinois for the past 20 years. The ATU holds an Adaptive Equipment Clinic at a local transition program two to three times a month. At the transition program, students such as one named Lauren, take classes and learn independent living skills such as hiring aides, managing money and daily living skills.
Lauren came to the ATU's Adaptive Equipment Clinic requesting assistance with several daily living tasks she was hoping to have greater independence.
The first request from Lauren was to assist her with equipment that would allow her to independently operate the elevators. Lauren needs to access four floors throughout her typical day for classes, meals, and getting to and from her room. Lauren is a person of short stature and her reach is limited. Through the Adaptive Equipment Clinic, the ATU designed an Elevator Access Stick for Lauren. The Elevator Access Stick is made from a lightweight aluminum rod and incorporates a 3D-printed hand grip at one end of the stick, a 3D-printed center grip, 3D-printed flexible rubber endtip for "gripping" the elevator button, and 3D-printed attachment to her wheelchair. Lauren also had the ATU incorporate a 3D-printed hook, into the grip end of the aluminum rod, so now she can use the elevator stick to access handles for pulling open drawers within her room.
The second request from Lauren was for a cup holder to access water independently and maintain hydration throughout the day. Standard cup holders placed a cup outside of Lauren's reach. A 3D-printed cup holder with custom, lightweight, 3D-printed locking mechanism for a swing arm was designed to allow Lauren to access water as needed, but also swing the cup holder out of the way so she can transfer out of her wheelchair.
The third request from Lauren was for a phone holder. Lauren is a very social person and as a  avid smartphone user likes having access to her smartphone at all times. Prior to coming to the clinic, she kept her smartphone in her lap but she was concerned with it dropping. The ATU designed a 3D-printed phone holder that attached to her wheelchair. It provides a place for Lauren to store the phone on her wheelchair when she is not using it, access it when she needs it, and prevent the phone from being dropped.