Online lab promotes entrepreneurship for people with disabilities
Wednesday, December 11, 2019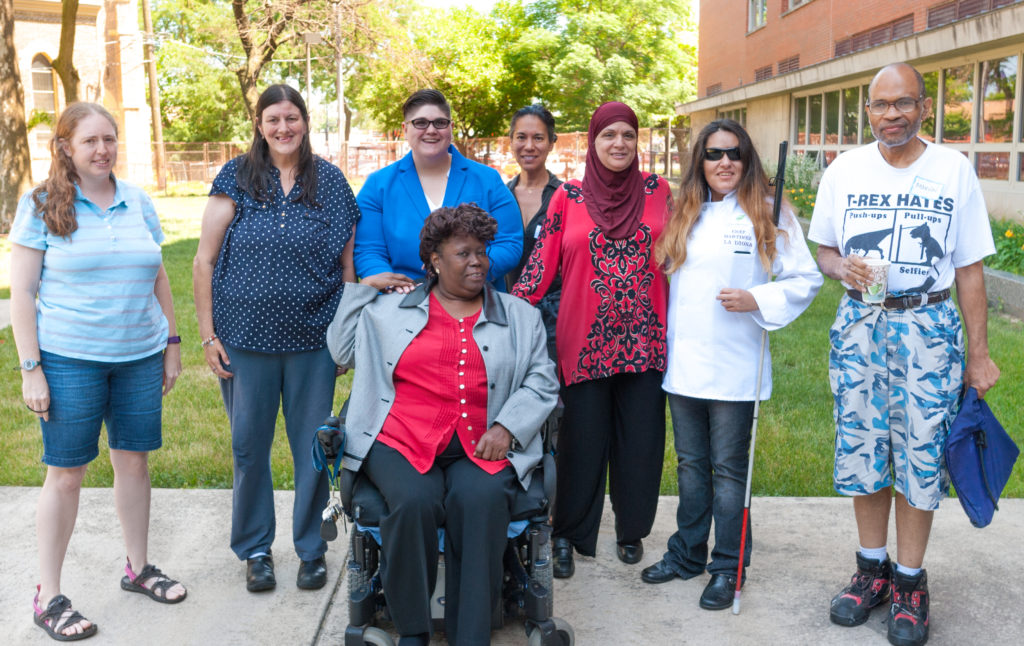 A new online lab from the Chicagoland Entrepreneurship Education for People with Disabilities, or CEED, is designed to help people with disabilities pursue entrepreneurship opportunities. Called the Idea Lab, the online resource is a free tool for people with disabilities to evaluate ideas via self-assessments, access tailored business training and explore strategies to grow businesses.
This new online tool was developed from information gathered from CEED's entrepreneurial training program, which brought businesses and people with disabilities together. The training program lasted two years and allowed UIC researchers to identify the main barriers to entrepreneurship that people with disabilities encounter.
"Through our training program, we learned that traditional business training programs are hard to find, are not accessible or are too expensive for people with disabilities," said Sarah Parker Harris, UIC professor of disability and human development at the College of Applied Health Sciences. "We needed a way to provide training specific to the needs of people with disabilities. As a result, we created the CEED Idea Lab to assist people with disabilities in entrepreneurship exploration, business practices and implementation of strategies to grow their business."
"The CEED Idea Lab is here to set achievable expectations, not low expectations, which is one of the biggest problems that we have seen with disability employment," said Kate Caldwell, UIC clinical assistant professor of disability and human development at the College of Applied Health Sciences.
"The reality is that people with disabilities often face cultural and systemic barriers in higher education, making it harder to form peer and mentor networks, which are essential for business," Parker Harris said. "Also, there may be additional costs such as medical, assistive technology or equipment that need to be accounted for as allowable expenses in businesses ran by people with disabilities, which are not addressed in a traditional business training program. The Idea Lab addresses these issues."
"There are also savings disincentives for people with disabilities who are starting a business," Caldwell said. "Saving money or having too many assets can negatively impact the public benefits that they receive. It sets a limitation that entrepreneurs without disabilities don't have to think about. By exploring barriers like these, the CEED Idea Lab will help people assess entrepreneurial ideas and adjust ideas appropriately, if needed, for success."
"Even if through assessments, training and other resources an individual decides not to pursue an idea, the soft skills developed through this program can be beneficial in general," Parker Harris added. "People going through this training will develop important skill sets that are highly sought after by employers. So, this program is highly translatable to whatever career path they pursue."
An indirect benefit of the CEED Idea Lab is its potential to reduce the poverty rate of people with disabilities, Caldwell said.
"People with disabilities are involved in self-employment at almost twice the rate of the general population, yet we still see an issue with disability poverty," said Caldwell. "Entrepreneurship helps to create jobs for multiple people instead of the individual, which reduces poverty. When used as an employment strategy, entrepreneurship has successfully addressed poverty in other disadvantaged communities."
"Entrepreneurship also fosters innovation by addressing gaps in the market," Parker Harris said. "People with disabilities experience issues that can lead to innovative business solutions and generate new business, creating unique ways to address social, economic and environmental problems. By investing in this particular population, we can have greater innovations, bigger successes and utilize this anti-poverty strategy associated with entrepreneurship."
Collaborators for the CEED Idea Lab include Robert Gould, Robin Jones and Rodney Shrader of UIC; Maija Renko of DePaul University, and the Statewide Independent Living Council of Illinois (SILC).
The CEED Idea Lab will be accessible to people nationwide and the website will be used by SILC to offer training for individuals they are serving in independent living centers across the state of Illinois.